Humans of RMU: The Icon Behind the Counter
For over a decade, Robert Morris University receives a warm greeting along with needed nourishment anytime it stops for a quick meal or a snack. The staff member responsible—known simply as "Steve from RoMo's" —is in reality, Steve Walsh, who provides students and staff on campus with a friendly face from behind the counter.
"I always try to make the customer smile," Walsh said. "If they seem down, I try to cheer them up."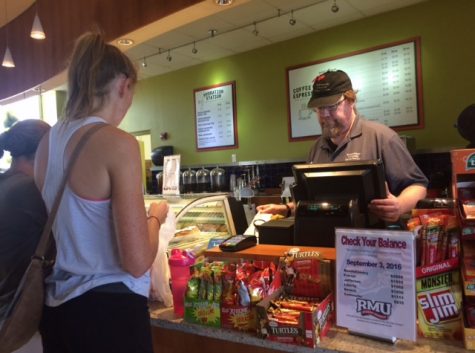 That ability to turn around another person's day is why Walsh is well known on campus. As a native of Potter Township, Beaver County, he grew up surprisingly close by—just down the Ohio River. Growing up in a close-knit family provided the foundation for caring about others that he continues to show everyone he meets. It is a trait that comes from his siblings and parents.
"I have three brothers and a sister who are always supporting me when I need them, and a mom and dad who show nothing but love," Walsh said.
While patrons are accustomed to Walsh asking them about what they like to eat, there are some foods that consistently get him through a long work shift. It turns out that his favorite snack is a tasty one, Wheat Thins with spray cheese, and his go-to sandwich is ham, turkey, provolone and cheddar on a hoagie roll.
Before becoming a staff member, Walsh graduated from RMU where he discovered a gift for performing. At the time, he acted in the Colonial Theater and still remembers his student performances.
"I enjoy acting; we did 'The Crucible' while I was a student," Walsh said.
Although his acting days are over, he continues to enjoy performing on campus. First and foremost, his customers are left smiling after Walsh waits on them. What they may not realize is that in his free time he co-hosts a show on RMU Radio. His show airs every Saturday afternoon at 3 p.m.
"It's called 'Rock in My Sock Show,'" Walsh said. "My co-host, Dave, and I play music, talk sports and try to make you laugh. The name [of the show] came from a running joke we like to tell."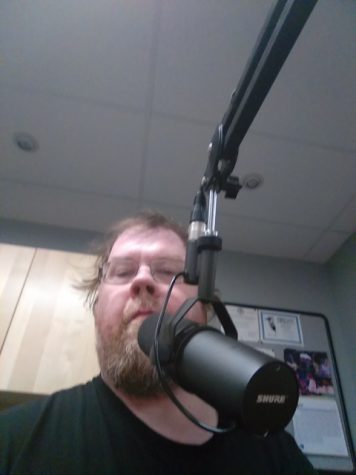 While that joke began with an actual rock in a sock, it is also a play on the lyrics of a Bon Jovi song. It's not surprising that the title of the show came from turning something negative into a positive; it's clear that Walsh brings that same positive outlook to everything he does. It's a philosophy for work and for life that he likes to pass on.
"Try to work with people you enjoy," Walsh said. "Being miserable at a job is no way to live—no matter how much you make."