Humans of RMU: The underwater hockey player
When RMU Associate Professor of Psychology David Wheeler was a junior at the California Institute of Technology, he had no idea that his interest in swimming underwater would lead him to discover a sport that he still plays. Even though snorkeling and scuba diving are familiar to everyone, many people have never heard of underwater hockey. Wheeler, however, was among the first wave of people to play it in the United States.
"I was Scuba Club president, and one of our classmates was a Navy diver," Wheeler said. "This was 1977, and it was one of the things they did as a part of their training. It turns out that's how underwater hockey came to the US—through the Navy in San Francisco. He was one of the original people who did it, and I'm one of the oldest people playing it still."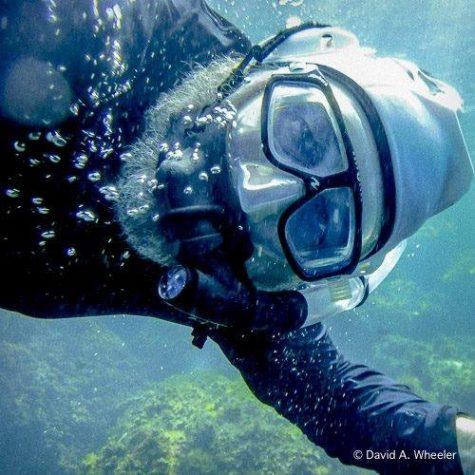 Wheeler was always attracted to the water especially snorkeling and diving, which was one of the reasons he went to college in California. Living in the Steel City, he expected his underwater hockey days to be over. Despite Pittsburgh being a landlocked city, he discovered that there was a local team: the Pittsburgh Stingrays.
"I just really enjoyed the sport," Wheeler said. "It has some strategy, it's a way to play a sport that's really pretty intense, yet because you're in the water you don't really get hurt that much. As I've gotten older, it's something I can still play even against young kids. At some point, everyone has to come up and breath—it's an equalizer."
Wheeler joined the local team in 1992 and has been competing alongside his teammates ever since. Over the years, the team has had players with a wide range of ages, leading to some unique situations that you don't see in most sports. When his team won the gold medal in its division in 2012, they had players that ranged from 12 to 86 years of age. There was even a six year old on the team, who played with his dad, when Wheeler joined the Stingrays.
The team practices twice a week, and they compete in a variety of tournaments each year, including the Underwater Hockey Nationals. Wheeler was a part of the bronze medal team in the B Division at the 2018 championships on a team of players from Orlando and different parts of Pennsylvania.
"At Nationals you really do get to know the people (who play the sport)," Wheeler said. "In the US, there may be 1,200 people who play and about 300 to 400 are at Nationals, so you get to know the people who come every year."
If you're interested in playing underwater hockey, you can contact Dr. Wheeler or contact the team through their Facebook page: https://fb.me/pghuwh.