Humans of RMU: The visiting bookseller
For almost three decades, Robert Waskowicz has been selling books. It all began as he studied for a master's degree in English at IUP, and it has since made him a familiar face at Robert Morris over the past 20 years. Back in the beginning, it was the combination of being an avid reader and a chance encounter with a business opportunity.
"I was walking through the student center and saw someone selling jewelry, and I asked someone about that," Waskowicz said. "Vendors were allowed to visit the campus, and I started to sell books and other items."
Waskowicz, a resident of Greensburg, went on to own a book shop, but he now sells books, records, antiques and other items directly at area college campuses, other venues such as flea markets and on-line. Since beginning his career back at IUP as a graduate student, he has been in the book business for almost 30 years.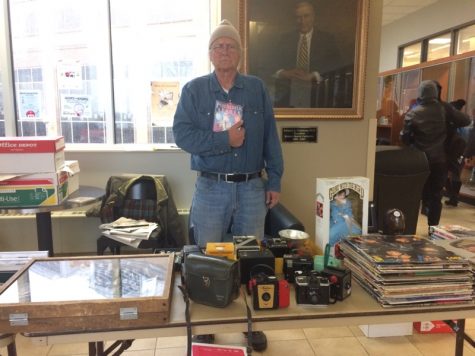 It was while he owned his store that Waskowicz first branched out from books into the other items that he still sells today. In those days, he would often buy books from estate sales when families approached him because they no longer wanted or needed them. From that start, he began buying more.
"People would come in and say a relative had died, and they had a lot of books that they wanted to get rid of," Waskowicz said. "I would visit their house, and they asked, 'Do you buy anything else?' I started buying everything else plus the books."
Whether it was the families that he was able to help through the store or the college students he meets on area campuses now, the best part of Waskowicz's career has been the people that he has had the chance to meet. The time he spends out in public is clearly what has attracted him to this way of life.
"Meeting people from all walks of life [is what I like about it]," Waskowicz said. "[They come from] all various backgrounds. I'm just fascinated by the individuals that I meet."
For students interested in shopping when Waskowicz is on campus, they will have to keep a lookout for him in Nicholson Center because he does not have a fixed time to be here. In order to have space for his moving store, he has to check with the school for available dates. Despite not having a regular schedule here at Robert Morris, he is grateful to all the members of the community that he gets to serve when he is able to.
"Thank you to the people who have stopped by—whether they purchased anything or not," Waskowicz said.