Phi Mu Delta Hosts First Ever "Adult Spelling Bee"
Phi Mu Delta's "Adult Spelling Bee" was a hit with hilarious contestants and outrageous words that was sure to give you a shock!
Bryton Kasputis and the rest of the brothers of Phi Mu Delta have one member to thank for the successful event.
"Originally Jonathan Guaetta gathered us as a committee and shared the idea with us, we knew that it would be a great way to raise money for St. Jude."
Kasputis went into detail about what the fraternity stands for and what they do to help the community.
"We are Phi Mu Delta, there are around twenty-seven of us and we stand for Service, Brotherhood, and Democracy. Our philanthropy is St. Jude, and we host events like Winter Beach Party in the Fall to raise money, we also do service events on the weekends," Kasputis said. "Our fraternities philanthropy is national; we want to help not only the children but the families who go through St. Jude."
Although the rain was pouring, so were the tears of laughter the audience had from the eight slightly buzzed contestants. Each contestant was dressed in a hilarious costume, from a Teenage Mutant Ninja Turtle to a dill pickle. They each gave their best to each word thrown at them.
The judges presented multiple categories like, "RMU", "Health and Wellness", "Dumb Ways to Die", "Audience Choice" and so many more. Each contestant went one by one spelling words like, "Parking Ticket", "Karaoke", "Homicide", "Suggestive" and plenty of hilarious out-of-this-world words.
One contestant was asked to spell the word "Dragon" and was asked if she needed it used in a sentence or if she needed a definition. Instead of asking either one of those questions, she asks, "Could you possibly make the noise of a dragon for clarification?" The whole hall erupted into laughter as Marissa Santore (Queen Bee) roared as loud as she could, and the contestant continued on to spell her word.
Eventually, contestant number five was up to the microphone, her word was "Guinness" like the beer. She exclaimed, "I can't even drink it! I'm gluten-free!" and was the first to be eliminated from the spelling bee.
When each contestant would get a word right, the judges would ring a little bell. But, if they got a word wrong, the judges would blow an air horn to make sure that the whole of RMU would know that they spelled a word wrong.
Multiple "cheats" were used that either helped the contestant holding it or sabotaged whoever it was given to. For example, there was a sabotage used against one contestant where they had to spell the word backward. Hilariously, the contestant decided that instead of spelling the word backward that she would turn around and spell the word, and by audience choice, she got to stay in the game.
After the competition hit the final four contestants, it was time for an intermission. Phi Mu Delta had a cash bar for anyone 21+, cupcakes, honey pots, an auction for three baskets, and a 50/50 raffle in the lounge of Massey Hall.
After the intermission, it was back to the final four contestants who tried their hardest to stay in the game, but it finally came down to the last two contestants, one man in a dinosaur suit, and another in a hot dog suit.
Each fought back and forth but had great sportsmanship while sipping some beer. It finally came back to the "dinosaur" contestant when he spelled a word wrong, and all eyes were on the "hotdog," Philip Yuhas. His word was "Caribbean" and with ease, he successfully won the Adult Spelling Bee.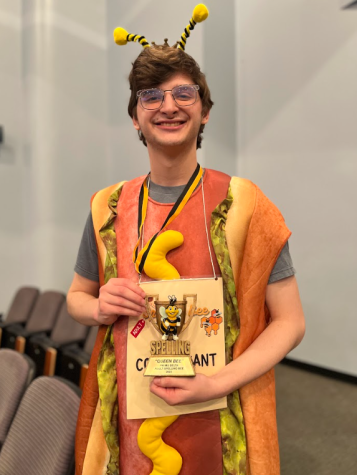 After Yuhas received his bee trophy, he explained why he decided to compete in the spelling bee.
"Well, I was reached out to by my good friend Terryaun Bell, who asked if I would like to participate. I love PMD and I love St. Jude so I knew that I was going to have a lot of fun."
Yuhas then explained what was going through his mind when he was up on stage during the competition.
"I was definitely nervous, it was the word to win it all, especially after having to spell the word "Conscientious" which I can't even pronounce! Yet, I was feeling pretty cool, knowing this word and I was able to think it through."
" You know I was hitting the books and reading the Dictionary," he said jokingly. "Yet in all seriousness, I really came to just have some fun, and spend some time with my friends."
Finally, Yuhas went into detail about why he thinks the Adult Spelling Bee was such a huge success.
"I really like how all the contestants got to wear fun costumes and we got to have power-ups or sabotages. This event was also super fun and unique, this isn't the kind of event that you get to see just anywhere, and Phi Mu Delta put a fun twist to a spelling bee so everyone could have a fun time."
Overall, this event was so funny and many who were there hope to see this happen again next semester!