RMU Bands adapt to playing in a pandemic
And the (RMU) band played on!
In the midst of the COVID-19 pandemic, Robert Morris University's bands have found ways to bond through music while staying safe and healthy.
Despite the less than ideal circumstances, the RMU Show Band concluded its season while following both the university's and CDC's guidelines.
"When you're playing an instrument, there's breathing to consider and spit," said Grace Fertenbaugh, a saxophone player and student representative for the honors band fraternity Kappa Kappa Psi. "Our main focus was 'how are we going to do this while wearing masks and staying six feet apart?'"
The band was able to answer this question by reaching out to other bands and taking recommendations for safety measure. The band members also followed the guidelines found in studies sponsored by the College Band Directors National Association (CBDNA).
The solution, the band found, was wearing "musician masks:" face masks with a small hole in them in order to play instruments. Many instruments were also covered by a bag or a bell cover. Social distancing guidelines were also enforced.
"It's been really weird," said Melody Guzman, a freshman who joined the color guard this year. "I was expecting (COVID) to go away so we could do what we did (when I was) in high school."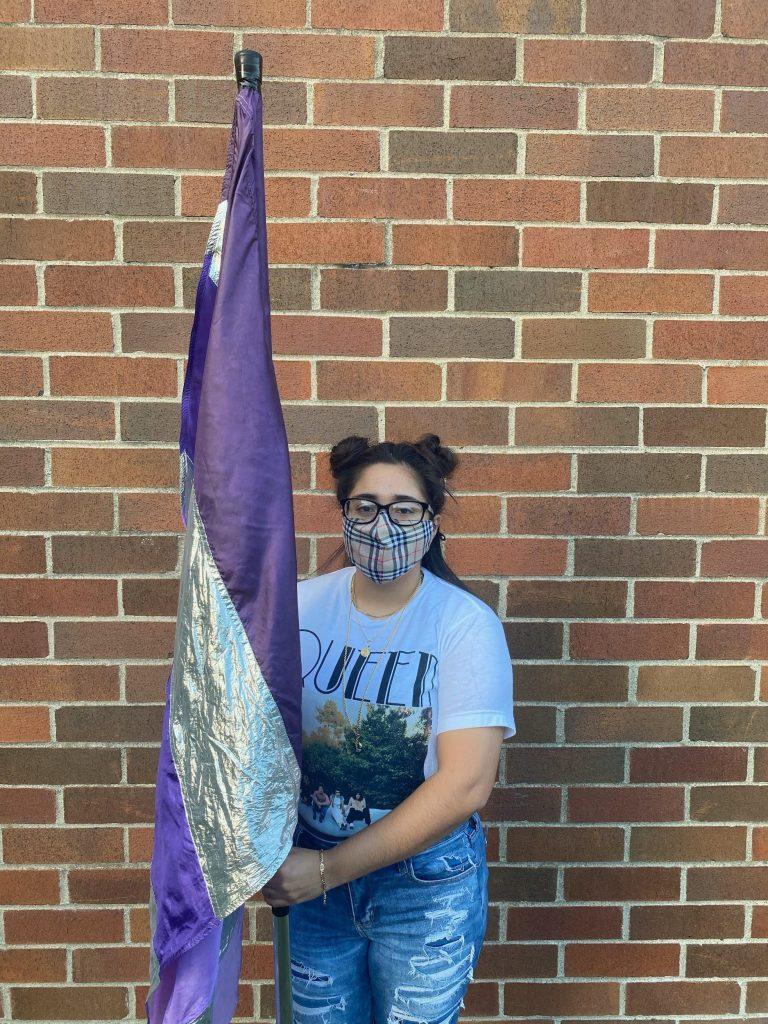 Planning for this semester began back in March after the initial wave of the virus came. Elisabeth "Betsy" Charles, director of bands, was heartbroken after the cancellation of the spring concert.
"The students were playing very challenging music and doing it well," said Charles. "We understood, but it was sad to leave the music half finished. There was no sense of closure. We have an amazing leadership team of students. At our first band council meeting, everybody agreed that we wanted to come back (in the fall). Being together making music, dancing, spinning, whatever aspect in the marching band, they wanted to do it if it were safe and healthy."
Instead of doing performances at sporting events, the band recorded their show digitally, titled "I'm Still Standing."
"RMU brought in their professional staff to record it," Charles said. "It was great."
For spirit week, the band also performed around campus at the Gazebo and outside the Rogal Chapel.
"Faculty members were saying, 'it was cool to walk into class and have some music,'" Charles said. "It was like the band brought the campus back to life."
Although there have been adjustments, Charles, Guzman, and Fertenbaugh agree that being a member of the band is worth it, even during this unprecedented time.
"Hopefully things will change next school year," Guzman said. "Although everything was separated, everyone was so caring and positive. I really liked it."
Fertenbaugh said that for her senior year, the social aspect of the band was worth it.
"Rookies (first year members) normally would've had a big Show Band season," said Fertenbaugh. "We still wanted to give the freshman as much of that as we could. It's my last year, so we wanted to give the seniors their last season. Even though we didn't get to do much when it comes to football games, parades, and all that, I definitely think it was worth it to even do a show and to learn the dances and music for the last time. On the other hand, the freshman got to experience this all for the first time."
Charles said that being a part of an artistic venture touches the souls of all that are involved.
"That's what makes it all worth it; being together, physically distant, but we are connected by something that is bigger than anything," Charles said. "It is worth doing in light of adversity."
The band plans on hosting jazz band and small group rehearsals along with two recorded performance videos. More information and updates can be found on the bands' social media, @rmuband.