RMU Theatre Hosts "We Tell The Story" Cabaret
Winding down on the semester, director Brett Alexander and Colonial Theatre hosted the "We Tell the Story" Cabaret at Massey Theatre Thursday afternoon.
Students sang and performed a variety of songs from Pittsburgh natives Stephen Flaherty and Lynn Aherns.
"This is the second year we have done [cabaret]," Alexander said. "They are just so prepared. That is something special about RMU students. They present opportunities no matter how busy they are. Even with Airband last week, people just love to perform here on RMU's campus."
There was a mixture of performances including quartets, duets and solo performances.
Songs included were from classic musicals such as "Anastasia," specifically "Quartet of the Ballet" featuring Trey Reichenfeld, Grace Hartnett, Luke Martin and Sadie Terrick, "Journey to the Past" performed by Addy Hildebrand, "In My Dreams" also by Hartnett, "Crossing a Bridge" by Justine Solinski and "My Petersburg" by Jordan Sass.
Reichenfeld also performed "Larger Than Life" from "My Favorite Year."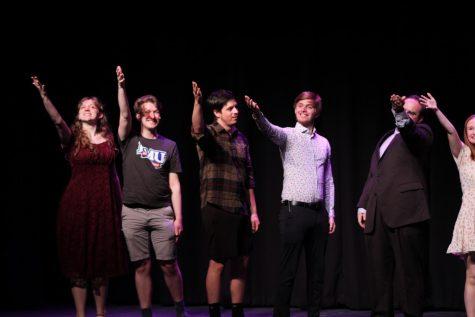 Another popular musical featured was "Lucky Stiff" in which Kaelei Whitlach performed "Times Like This" and Colin Mitchell performed "Phone Call."
There were two duets featured during the Cabaret, both from the "Seussical." Chris Tinney, who also performed "Love Who You Love" from "Man of No Importance" later in the show performed a duet with Addy Hildebrand in "Alone in the Universe."
Alex Wolfe and Sam Dutch also sang a duet from "Seussical" with the song "Notice Me Horton." Wolfe also performed "Some Girls" from "Once on the Island" and Dutch performed "Raining" from fall's Colonial Theatre musical, "Rocky Horror Picture Show."
Alexander spoke on the seniors, in which will be their last performance in Massey Theatre.
"It's always bittersweet every year," Alexander said. "Our wonderful students, performers and and family that we have at Colonial Theatre. It's wonderful to see everyone grow and be 'performers for life.' I'm sure that every single senior here that is graduating will continue theatre throughout their entire lives no matter what there major may be."
At the end of the Cabaret, per tradition, Alexander announced Colonial Theatre's fall musical. The seniors revealed it from an envelope and was revealed to be "Elf: The Musical."