RMU Welcomes Balanced Response Gallery to Wheatley
Hope Beatty, Head Arts and Entertainment Editor
March 10, 2023
The Robert Morris University Arts and Humanities department, led by Professor Andrew Ames and Professor Christine Holtz, recently partnered with the Associated Artists of Pittsburgh to bring the Balanced Response Gallery to the Wheatley Center Gallery on campus.
The gallery features work from 25 different artists who are affiliated with the Associated Artists of Pittsburgh. Their pieces are representative of life after the COVID-19 pandemic because art can be a creative way to express your feelings.
Sandra Bacchi, an artist who has a piece in the gallery called "Seeking Nowhere" made of square pieces of glass, expressed how important expression through art is for someone who has gone through something like a pandemic.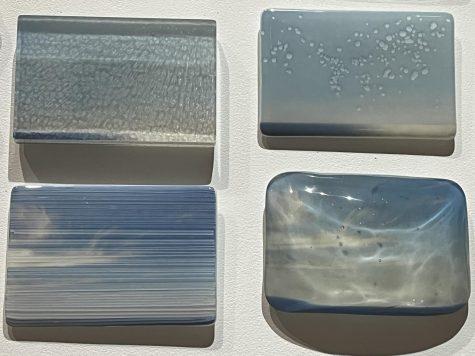 "The past two years or so were a challenge for humanity in general," Bacchi said. "And I think artists are able to express themselves and then help people to make sense of what they're feeling. So, I think it's an important topic to reveal what to give. I think, to give tools for people to navigate their own feelings about challenges that we faced during the pandemic and post-pandemic."
Gallery curator, Ames also reflected on what the gallery means to students on college campuses.
"The gallery on any campus is usually hopefully a beacon of culture. It brings students together, allows them to see things that they might not otherwise get to see. It allows us to use it as a teaching space through the sheer diversity of work we bring in," Ames said.
In the post-pandemic world, art galleries such as the Wheatley Gallery are used for artists to reflect and express their feelings through art.
After the Balanced Response Gallery closes, the Robert Morris University Arts and Humanities department will be hosting another gallery that will feature artwork from area high school students from March 27 through March 31.