Gayso and company making mark early
Hang on for a minute...we're trying to find some more stories you might like.
Over the last few years, goaltending hasn't been a problem for the RMU ACHA DI hockey team. During the 2013-14 campaign, head coach Michael Joseph utilized three of its four and this year he is splitting time between three net minders.
The team had an interesting combination last year since it had great depth amongst the three. Then senior Jeff Swiki was entering his final season with the club, Sean Scannell joined from the RMU DIII squad and Ryan Gayso rejoined the group after seeing a year with the NCAA DI team.
"The bad news in that was Swiki was our starter last year [2012-13] and we brought up two really good goaltenders that challenged him for that starting position throughout the year," Joseph said. "Gayso was great in the locker room as well as in the net. So was Scannell."
By the end of the season, the trio had the numbers to prove it.
But last year's stats and numbers didn't matter once the club returned to action in September. The team welcomed back Gayso for his final season as well as Scannell, in addition to Swedish goalie Joakim Axen, who enters his rookie year here at RMU.
The trio has already been about to form a strong relationship with each other.
"Our relationship is very good. I think this is probably the best goalie partners I've had in regards to comradery. We push ourselves to get better, we all on the same page pretty much, and what are goals are, as a team and as goaltenders," said Gayso. "We like to have fun, we'll joke around and stuff in the locker room and on the ice, and we'll do these little competitions and stuff like that. We're able to work hard and have fun, which I think is a unique relationship with goalies."
It might be early on in the season, but the work the three are doing isn't going unnoticed. Out of the 29 goaltenders in the league, Gayso ranks first, with Scannell ranked eighth and Axen 20th. With some help from the guys in front of them, the team has recorded a record of 12-2-1 thus far.
Gayso has played six games with a total of 341:50 minutes since the start of the season and has come up with a 4-1 record. He has allowed nine goals on 122 shot, averaging a .931 save percentage and a 1.58 GAA on the season.
The recognition on his accomplishments this season is something Gayso finds very humbling, but with much of the season left to play, Gayso and his fellow goalies look to build off it and continue on this road to success.
"I think with all this success the guys are really buying in and they're able to see all the hard work we're putting in day in and day out in practices and transferring it over to games I think the guys are able to see its paying off." the senior goalie said. "So, we'll keep the intensity, the tempo, and we're keep playing our game since it's been working for us so far."
About the Photographer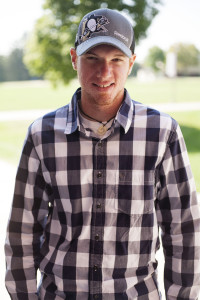 Brooks Bratten, Staff Writer
Brooks is a senior communication major with a concentration in sports journalism. He is currently the lead anchor on RMU-TV's Colonial SportsCenter (CSC),...