Pet of the week: Burnt Umber
Meet Burnt Umber!
This handsome tabby is a part of our Mission: Adoptable Program! He was transferred from another shelter for our annual New Year's Eve Rescue. Burnt Umber is one of the sweetest, most loving cats you will ever meet! He is an absolute purr machine and rubs up on everyone he meets. The only thing holding this sweet boy back from a home is that he was diagnosed with diabetes. We have been managing his diabetes really well with twice-daily insulin shots. Burnt Umber needs a family that is comfortable with giving him his shots, as it is essential for his well-being.
Burnt Umber loves to play but especially loves to be with people. He is vocal and will tell you how much he loves you! He is a stately and handsome cat, with a loving personality. He is a staff and volunteer favorite and so deserves a forever home of his own!
Your mission, should you choose to accept, is to give Burnt Umber a loving home!
In addition to the above Mission: Adoptable benefits, Burnt Umber's family will also receive one package of canned pate food, a one-on-one with an Animal Friends Medical Wellness employee, one supply of Prozinc insulin and a urinalysis and blood draw after adoption (Animal Friends will not analyze the results but will perform the procedure for free and will fax the findings to your veterinarian of choice).
Open your heart. Adopt a foster today and allow another animal the chance at life. www.ThinkingOutsideTheCage.org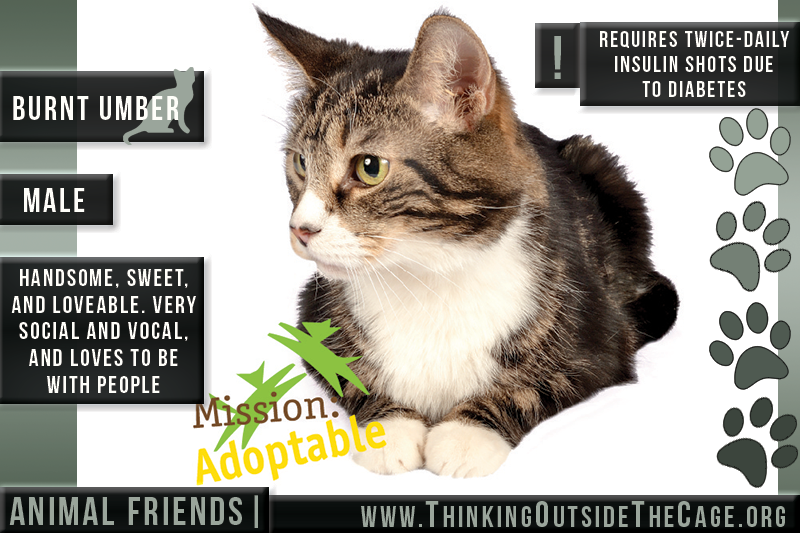 Tori Flick