'Round about Pittsburgh: Chiller Theater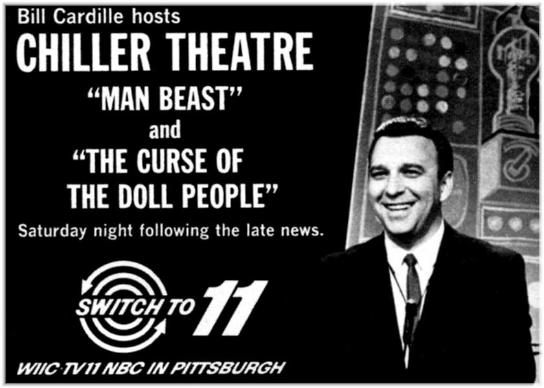 From 1963 to 1983, Channel 11 in Pittsburgh, then WIIC, aired a Saturday night program entitled "Chiller Theater." Hosted by Billy Cardille, known as "Chilly Billy," the show became so popular in the Pittsburgh market that it kept NBC's Saturday Night Live from airing on Channel 11 (Pittsburgh's NBC affiliate) for four years. Over the years, Cardille brought in numerous guests, including Barbara Feldon, Vincent Price, Bruno Sammartino, Lorne Greene, Phyllis Diller and Jerry Lewis.
"Being young and it was the only night I could stay up late. I remember staying up late with my brothers, cousins and my dad trying to watch Chiller Theater. A lot of the movies I had watched were the first time I saw them," said RMU Academic Media Center faculty member Ray Zaparoni. "As I got older and started to go to conventions, I started meeting these heroes I saw on the screen (on "Chiller Theater)."
Aside from his work on "Chiller Theater," Cardille appeared as a reporter in the cult classic "Night of the Living Dead," released in 1968. He also appeared as the host of other shows on Channel 11 as well as radio shows and broadcasts such as wrestling.
After the show's run came to an end, the fans of "Chiller Theater" were left disappointed, but the memories of the show remain forever. And it wasn't just Channel 11 in Pittsburgh that featured a late night show dedicated to horror films. Zaparoni explained cities such as Cleveland, Philadelphia and New York had similar shows. When "Chiller Theater" was introduced in 1963, television was still a new way to capture an audience and it was shows such as "Chiller Theater" that paved the way for modern day television.
If you ask anyone in the Pittsburgh region who is old enough, they will most likely have fond memories of "Chiller Theater" and instantly think of "Chilly Billy."
"People who didn't like or watch horror films knew who Chilly Billy was," said Zaparoni.
When asked why "Chiller Theater" had an impact on the local market, Zaparoni said "There was no cable TV, so we only had three or four channels. It was the event of the week. Everybody grew up watching Chilly Billy because it was the only time you could see Frankenstein, Thing Without a Face or Creature From The Black Lagoon. Nowadays, you can find these movies on Netflix."
He went on to explain Chiller Theater wasn't just a show for children but a show adults watched as well. Zaparoni also stated the individuals he personally knows who work or writer on horror films in Western Pennsylvania got their start by watching Chilly Billy.