Steel Curtain Sessions: A Big Head Scratcher… (Week 4)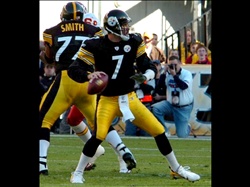 Like most others, I was shocked when I watched the Steelers lose at home to a previously defeated Tampa Bay Buccaneers team, who had been debatably the worst team in the NFL. However, after the game I thought long and hard to myself and realized this loss wasn't as shocking as I initially thought. After watching the last couple of seasons, I have realized that this is common for the current Steelers team. They are terribly inconsistent and you can never really predict what they will do. They could beat a top team one week and then lose to a trashcan the next week. Losing to teams like Tampa Bay at home is not very reassuring to fans and the Steelers' playoff hopes.
I will give the Bucs credit; they came out to start the game on defense and forced a turnover right away. The very next play they scored on a touchdown pass to Mike Evans. Who was covering Mike Evans you ask, Cortez f**king Allen. The entire game I was ready to cry on every third down when the secondary would leave somebody wide open and Cortez Allen was one big part to the terrible pass defense on this past Sunday. Just recently, Allen signed a four-year 26-million dollar deal, making it seem like he will be the new number one cornerback for the Steelers once Ike Taylor is done for good. Sadly, Cortez Allen has not looked very good at all since he became a starter in the secondary. He gave up some major plays on key downs including a 41-yard pass on second down that would set the Bucs up at the five-yard line and where they would eventually cash in on the winning score. William Gay gets cut and comes back every other year. He needs to stay cut. William Gay has never made a significant impact in the secondary in all my years of watching him on the Steelers.
I was really hoping that the Steelers would maybe sign a cornerback from free agency during the offseason to improve their pass defense and make it possible for some more takeaways from that secondary. The Steelers seemed like a front-runner to sign for cornerback Alterraun Verner in the offseason but of course, they didn't. Instead, they signed Mike Mitchell, who has not done jack shit this year and was late on almost every play in the Bucs game this past Sunday.
The offensive line had a complete change of heart against the Bucs and decided to barely block this past week. After giving up just one sack all game against the Panthers, the line managed to give up five sacks in the first half on Sunday. Granted, a couple of those sacks may have been Ben's fault but still, the running game still wasn't able to get going and the penalties continued to rack up. Not on just the offensive line, but the entire defense also looked very undisciplined. 13 penalties for 125 yards. Wow, just f**king wow. Excuse my language but that is a damn joke. That is the textbook definition of "shooting yourself in the foot" right there. There is no way the Steelers can be successful this year if they get that many penalties in each game. This NEEDS to stop right now and the coaches have to get these guys in line.
I will not let the offense off the hook here. They had some good moments but ultimately helped cost the Steelers the game on some key drives. Antonio Brown had a rare drop in the fourth quarter, which would've put the Steelers in the redzone and given them a chance to go up by two scores. The offense also failed to pick up one first down in the last two minutes of the game, which would've gotten them the win because the Bucs were out of timeouts after second down on the drive. Finally, the punter Brad Wing, who had been punting fine all game when he did, decided to kick his worst punt of the game with 40 seconds left to give Tampa Bay the ball back at the Steelers 46-yard line. It was a very sad 29-yard punt and contributor to Tampa Bay's comeback win at the end.
All and all the Steelers are very inconsistent and unpredictable for this year. I am very afraid to see what will happen the rest of this season. The coaches need to get these guys in line or else… It may be one of their jobs on the line. Eight and Eight and a third straight year of missing the playoffs is completely unacceptable for the Steelers franchise, which has the most Super Bowl victories in the NFL with six of them. I am going to be optimistic though. Unlike previous years I am going to try and believe in this Steelers team because when they are hot, they are almost unbeatable. All they have to do is translate that great play into every week and not sleep on any team in the NFL.
Positives and Negatives:
Positives: I really like the way Big Ben has been playing and despite a big drop, Antonio Brown still put up impressive numbers and looks like a top flight receiver. Bell still runs hard and he will have more 100-yard games than not I believe. Heath Miller also looked great and caught a career-high ten passes and scored a touchdown. He can be very vital key in this offense.
Negatives: The cornerbacks look garbage. They never stepped up on key downs and really brought this defense down. There was no pass rush really this week and with no pass rush, the Steelers cannot be successful. The offensive line did not block well and the team overall was horrible as far as penalties go. That needs to be shaped up right away.
Next Week's Matchup: The Jaguars. 0-4 is their record but we know this does not mean shit to the Steelers. I think the Jags may have a win or two if they would've just started Bortles from the start instead of Chad Henne. The Steelers need to step up and play a clean and discipline game. They must force turnovers and get that running game going if they want to win this game.
PS: I have no smart remark/comment this week… JUST PLAY GOOD, CONSISTANT FOOTBALL!