Steel Curtain Sessions: The offense does work! (Week 8)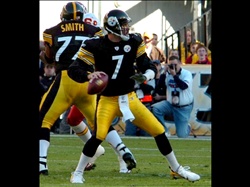 The Steelers finally answered to the call of playing flip flop each week with winning one and losing one. This marks the first time this season the Steelers have won two straight games. It was a game heavily dominated by offense and the final result ended up being 51-34 in favor of Pittsburgh. I said a few weeks ago that these three home games in a row would be key to the season and they have managed to answer critics and win back to back games in which very few believed they would win. It was a bit surprising to see how bad the Colts played on defense coming in riding a five game winning streak but I really believe the Steelers had a perfect game plan and approach to this game on both sides of the ball.
The Steelers spread the field and receivers were open all over the place. They scored 35 points in the first half, tying the most they have ever scored after one half of football. Ben was able to spread the field and find multiple targets and this receiving core looked very solid. Both Antonio Brown and Heath Miller had over 100 yards and the rookie receiver Martavis Bryant grabbed two touchdown passes and has proved to be a new reliable target for Big Ben. Bryant now has three touchdowns in his first two starts for the Steelers. The offense just clicked and they really put a beat down on the Colts' defense. Roethlisberger set a record being the only quarterback in NFL history to throw for 500 yards in multiple games. This game proved that this offense has the weapons and can work if they put their heads together. I know a lot of people including me are rethinking the whole fire Haley thing. As long as they call the right plays, it can be successful. Also, I want to give a huge amount of props to the Steelers' offensive line. They performed so well and did not allow a single sack and they essentially set that offense up for success.
As far as the game plan, I thought it was great on the defensive side. They knew the Colts had a high-powered offense and they would have to put pressure on Andrew Luck. The defensive front did a great job pressuring, knocking down, and sacking Luck. The only problem was the problem I've said this defense has always been dealing with but it is never addressed, the secondary. Despite pressure on Luck, he was still able to throw for 400 yards and three touchdowns. Honestly I attribute most of those scores to Cortez Allen. Once again I hate doing this but it is so painfully obvious that he is hurting the team by being out there. He gave up multiple plays including two touchdowns and two big catches on a third and 15 and a third and 11. He was taken out on the last drive and they guy who replaced him ended up getting the game clinching interception in the endzone. Most plays it appears to me at least that Allen has position but he never turns his damn head or can make a play on the ball. He needs to be benched at least for a game or two. I don't really know if he will get his "mojo" back or not but I do know if he continues to be on the field playing like that, it will cost this defense a lot.
Aside from a couple of stupid fumbles in the fourth quarter, there was really nothing bad to say about this offense and they were able to close the game with a touchdown after Andrew Luck caused a safety by getting flagged for intentional grounding in the endzone. A brilliant game by the defense as far as the front seven and the plan. All they need to do now is stay consistent with this play and the secondary must improve. Obviously, they wont score 51 points every week but if they can score a solid amount of points and the defense can step up, they can turn everything around and win this division.
Positives & Negatives:
Positives: 522 yards, six touchdowns for Big Ben. Incredible offensive performance by the receiving core and Bell, who ran and caught the ball well. Big props to the offensive line. They gave Ben a great amount of time to set those big passes up. Great pressure and play by the front seven. Excellent approach and game plan overall on both sides of the ball.
Negatives: The Secondary. Once again, they have been the worst part of the game but Cortez Allen is by far the biggest contributor to the big pass plays given up by this defense.
Next Week's Matchup: A home game against the Ravens. This is a pivotal game for the Steelers and this can be a huge factor in terms of potentially winning the division. They need to use that home field advantage and feed off of this good energy and come out and execute a solid game plan against their division rivals.