Marotte's 30 save shutout leads men's hockey to win in game 1 against Holy Cross
Hang on for a minute...we're trying to find some more stories you might like.
PITTSBURGH- The Robert Morris University men's hockey team (13-20-2, 11-15-2 AHA) was able to pick up the first of two victories needed to move forward in the Atlantic Hockey playoffs on Friday night with a 1-0 victory of the Holy Cross Crusaders (10-20-5, 10-14-4 AHA).
The lone tally on the night came from the only player to register a point on the night, Nick Prkusic.  Prkusic's goal came off of a breakaway effort where he beat Holy Cross netminder Tommy Nixon over his blocker side. "I was going pretty fast, so I thought to myself, I might be able to catch him by surprise, so I just brought it back and flicked it up," said Prkusic.  
Just minutes before the game's only score, RMU goaltender Francis Marotte accounted for the only other major highlight of the night as he kept the Crusaders off the board with twirling cross-crease save to keep the contest scoreless.
This save was just one of Marotte's 30 en route to his eighth career shutout which ties Terry Shafer ('16) for the most in program history.
In his last outing, the junior goaltender set a season-high with 40 saves in the Colonials 4-3 victory of the Mercyhurst Lakers (13-19-5, 11-14-4 AHA). "We're playing really well defensively the last couple [of] weeks so that's making my job a whole lot easier," said Marotte in regards to his performance of late.
As Marotte said, the defense did play well, and they did this being shorthanded on the blueline.  Sean Giles was forced to sit out Friday night's contest due to a one-game suspension after his ejection for spearing in the Colonials win over the Lakers.  The Colonials were also missing star defender Eric Israel who, despite skating in warmups, was out of the lineup.
On top of all of this, the Colonials lost defenseman Nolan Schaffer during the game. Despite this, the defense stayed strong and managed to block 24 shots on the evening.
"They threw a lot of pucks at the net, I won't look at the shots, because they were just throwing pucks at the net," said Head Coach Derek Schooley. All in all, Schooley said that his team defended well.
Specifically, the head coach mentioned that Brandon Michaelian and Alex Robert were good on the back end.  Schooley also said that Nick Jenny was solid on defense as well. "The other guys had some spurts, and they defended well, we just got to eliminate the puck mistakes," said Schooley.
With Friday's victory over Holy Cross, the Colonials extended their win streak to three games and their unbeaten streak to four. Marotte commented on the Colonials win streak he said, "We talked about getting hot at the right moment, and that's what we are doing right now. We're getting hot and we're going to try and finish this tomorrow."
The Colonials and the Crusaders will square off again Saturday night in game two of the best of three series.
About the Contributors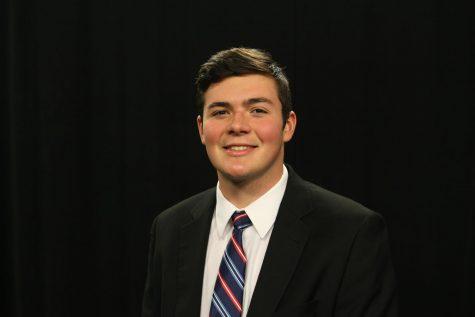 Michael Sciulli, CSN Co-DCM
Michael Sciulli is a sophomore Sports Communications major with a minor in Sport Management. Sciuli has been writing and broadcasting since his freshman...