Brooks, McCormick Students Participate in "ColorCycle"
By Haley Sawyer, Moon News Cloud Contributor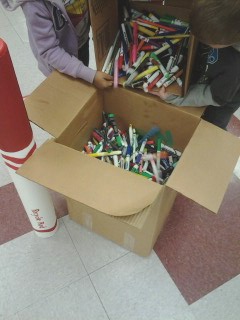 The recycling trend isn't just for tree-huggers anymore.  Within the past few years, recycling has become a nation-wide phenomenon.
But one of the important questions is how to teach children the importance of keeping the planet green?
Crayola's "ColorCycle "program might have the answer, and Moon Area elementary schools McCormick and Brooks have put that program into effect with astounding results.
The art and craft supply company has been putting forth an effort to green, from the solar panels at their factory to their black-tipped recycled markers.
McCormick and Brooks employees Susan McKenna and Steve Izzo first saw the program advertised in a magazine and thought it was a perfect fit for their schools.  After sharing the idea with principals and others, the program was approved and put into action.
Students were asked to collect old, dried-out markers from around the school and their home, then bring them into the school.  The markers were put into a box and shipped back to Crayola.  Shipping fees are covered by the company.
Instead of using a plain box or container to collect the markers, the elementary schools had a more creative idea.
"We want them to collect the markers and put them in a box, but I thought, what if we had like a giant marker tube or something to put them in that was more inviting for kids?" said Izzo, a kindergarten through fourth grade art teacher.
"So I gathered some recycled carpet tubes from my brother-in-law who is a carpet installer, then I made these markers that are about three feet tall, four inch wide tube and I make a cap for it and a base like real markers."
The oversized markers sit in each of the schools' art rooms and front offices and hold up to 150 markers.  Any markers are acceptable, not just Crayola brand.  Highlighters, permanent markers, dry erase markers can all be used.
To further encourage the kids, a paper cut-out of their principal sitting in her SUV is posted on a bulletin board in the school.  Depending on how many markers are collected at a time, the principal will "drive" a certain distance.  About 308 markers can fuel an SUV for 15 miles.  Currently, the principal is parked at Kennywood.
Within the first month of collection, 1,300 markers were collected.  Although collection has slowed a bit, the students are still enthusiastic.
"I'm on bus duty every morning and there's at least one or two kids a day that come in with a bag of markers from home," said Izzo.  "Sometimes kids will come over right to the big marker and they'll try to shake it to see how much is in there.  They're always impressed at how heavy it is."
McCormick and Brooks elementary schools hope that the program catches on throughout the district.  Allard Elementary has picked up on the trend and Moon Area Middle School has shown interest, as well.
"We didn't make it like a contest or anything," explained Izzo.  "A lot of kids asked, 'what's our incentive?'  There is no incentive.  Your incentive is to save the planet."