Don't Forget "Things" Remembered" for Your Valentine
By Brittany Rowe, Moon News Cloud Contributor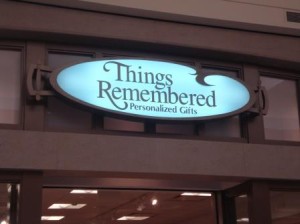 You know that fear that comes with finding the "perfect" gift for your loved one on Valentine's Day? Things Remembered at the Mall at Robinson might help calm those nerves.
Things Remembered is known for making engravings on all types of jewelry and other items. Engraving happens the same day you make your purchase, and it typically takes about an hour. People are allowed to buy gifts elsewhere and bring them to Things Remembered to be personalized.
"Something we have to offer that allows Things Remembered to stand out is that you can get anything engraved," manager Krissy O'Donnell said. "Most of the time these engravings are things people are not willing to say or express, or something they want to stay connected to."
O'Donnell suggested that jewelry boxes, key chains that link and phone cases engraved with hearts are popular items inside her store at this time of year.
The powerful messages behind these gifts, be it love, strength, or compassion, often make people want to engrave that special gift. For Robinson resident Rachel Sebbens, this year's Valentine's Day has extra relevance.
In particular a Robinson resident Rachel Sebbens, has recently been engaged after five years, and says
"Valentine's Day is a special day to us," she said. "Just to be together on Valentines is a romantic time. Now that we are engaged to be married, it is the most romantic thing that has ever happened between us."
Sebbens added that after five years of being in a relationship with the same man, she knows what kinds of gifts he likes.
"I found out it's best to get him something he will always have, and use as opposed to something that would just sit around," she said. "I would get him a watch and engrave a personal message on the back of it."
Traditionally for Robinson residents stores such as Things Remembered make it easy to keep a loved one happy on Valentine's Day.  Although keepsakes become popular and close to the heart, perhaps The Beatles said it best, on Valentines Day "all you need is love, love, love is all you need."