Getting Healthier, One Juice at a Time
Caley Sanguigni, Moon News Cloud Contributor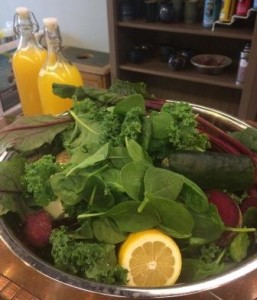 Juicing has become a popular health trend all across the county.  A local business located just east of the Sewickley Bridge is making the health benefits of juicing more accessible to area residents.
Salúd, meaning "health" or "cheers," has been open since September 2013.  The business is owned by two health enthusiasts. Seth Zimmerman and Ginny Corbitt, who have known each other for 25 years.
Corbitt says a store such as theirs offers people the chance to avoid the "junk" drinks available everywhere.
"We're starving the body to death by giving it junk," she said. "It wants the good stuff."
Each juice at Salud is designed to give your body solid nutrients that go directly into the system.  You're basically giving your digestive system and your liver a rest.
If you're a more adventurous juice drinker you can opt for one of the specially designed cleanses.  Each cleanse revolves around six juices you exchange for your normal meals. You shouldn't feel hungry if you're doing it right; however because your body is detoxing, there's a chance you will feel uncomfortable for a short time.
Salud also has more traditional flavors like the Jane Good'All, which is made with strawberries and bananas.  If you're interested in trying something different, then go for the Hot Shot.  It's a ginger based health shot that will clear your sinuses in a second.
Salúd is open Monday-Friday 7:30 a.m.-6 p.m. and Saturday 9 a.m-5 p.m.  The store is located at 348 Beaver Street in Sewickley.