Leading the Charge: Alexander, OLSH Advance in WPIAL Girls' Hoops Playoffs
By Chris Mueller, Moon News Cloud Contributor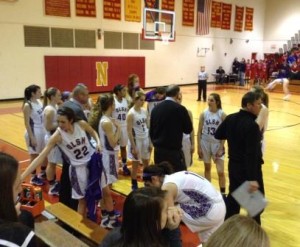 It was a simple scenario Friday night for Our Lady of the Sacred Heart's girls' varsity basketball team.
Win, and move on to the next round; or lose and spend the short 13-mile bus ride from Northgate High School back to Coraopolis thinking about what could have been. Courtney Alexander and the Chargers did not go home empty handed.
In a WPIAL Class AA varsity preliminary playoff matchup, OLSH defeated Apollo-Ridge 39-28. Alexander led all scorers with 15 points, especially pacing the Chargers in the second half.
The sophomore explained how the atmosphere of a postseason game affected her energy level.
"I was freaking out in the locker room during the warm-ups," said Alexander. "But after the first quarter, we were all good."
Also playing well for the Chargers was junior forward Heidi Langhorst, who chipped in eight points to go along with 15 rebounds.
"I think we started off slow in the first half since we were pretty nervous about the playoffs and everything," she said. "In the second half we really picked it up when we switched to man-to-man defense."
Head Coach Donald Eckerle was satisfied with his young team's response to playing in its first big-time like atmosphere.
"We have a lot of young kids on this team even though we've had a lot of playoff experience," he said. "I'm pretty pleased on the way we played, especially defensively."
The Chargers' head coach had high regards for Alexander's play at the point guard position.
"[Courtney Alexander] handled the ball well and controlled the tempo of the game," he said. "Defensively, she made some plays and I think she was able to execute the plays I wanted run in a fashion that we were able to get really good looks."
Things weren't going the Vikings way throughout the entire night. A few tough calls and a second quarter run by the Chargers killed their spirits early, enabling OLSH to run away with it shortly after halftime.
"We have a team that doesn't have anyone making the playoffs prior to this," said Apollo-Ridge head coach Jim Callipare. "We talked about keeping their heads up and not letting this one game ruin what we accomplished this season."
OLSH becomes the 8th seed in the WPIAL Class AA first round, and face off with the winner of Fort Cherry and Avonworth Feb. 18 at a site to be determined.