Legendary Irish Writer to Appear at Carlow University
By Haley Sawyer, Moon News Cloud Contributor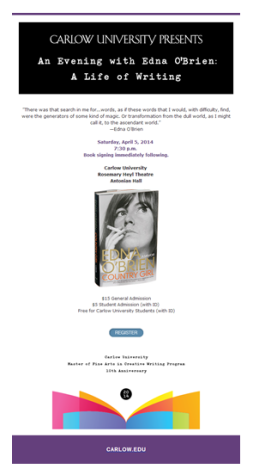 Edna O'Brien remains, at age 83, one of Ireland's most famous poets.  She's written works of fiction, nonfiction, dramas, and poetry; and won countless awards, including the prestigious Irish PEN award.
And she's coming to Pittsburgh.
This Saturday, O'Brien will visit Carlow University as part of the school's celebration of 10 years of its Masters of Fine Arts program.
Carlow has a deep connection with Ireland, thanks to its dual-residency MFA program.  Carlo Gebler, O'Brien's son, serves as a mentor for the program and has arranged for the writer to visit.
Tess Barry, a local poet and adjunct professor at Robert Morris University, is more than thrilled that Carlow is hosting O'Brien.
"As a writer, she is risk-taking.  I think certainly as a woman writer she broke new ground and started owning the idea of female desire," said the Carlow MFA graduate.  "Her novel 'Country Girls', which was published in 1960, is a book about two single women living in Dublin and living a kind of free life in terms of having affairs with men."
Barry added the 'Country Girls' was published during an era in which Ireland was "still extremely Catholic."
Raised by a well-off family in the countryside, O'Brien's work was not well received.  She had a tumultuous relationship with her mother, and even married against her parents' wishes.  Despite the rough family relationships, O'Brien has thrived in her field of work and is an inspiring individual to many.
"She is an extremely literate person," noted Barry, who has heard her speak twice.  "When you hear her speak, she quotes verbatim from multiple different pieces of literature.  She quotes from poetry; she's very well-read, so it's interesting to hear her talk because she has this enormous pool of sort of literature resources that she's drawing from in conversation."
O'Brien's appearance in Pittsburgh is also important because she might not make the journey again.  Being as old and frail as she is, long-distance travel might not be an option in the near future.
The writer's visit will be an excellent experience for any fan of writing.
"Hearing her speak is an education in terms of literature," said Barry.  "So anyone who values literature will come away with something.  It won't be just a talk about her life or her work, but will sort of incorporate all of the different aspects of her literature life."
The event begins at 7:30 p.m. at Carlow University's Rosemary Heyl Theatre in the Antonian Hall.  After speaking, O'Brien will be available for a book signing.  General admission is $15, but just $5 for students with valid ID.