Moon High School Athlete to Continue Her Career at Capital University
By Haley Sawyer, Moon News Cloud Contributor
In today's NCAA world, there is plenty of hype surrounding "signing day."  Turn on any sports channel and you can see camera crews surrounding high school athletes with a row of hats representing a specific school in front of them.
The aforementioned scenario holds true to only a select group of players.  For the average high school athlete, such as Moon High School's Amanda Kachaylo, committing to a college program is less flashy, but just as meaningful.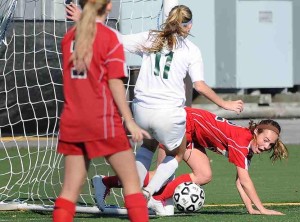 Kachaylo, who has signed a letter of commitment for Capital University in Columbus, Ohio, is focusing on a smaller picture: Surviving college as a student-athlete.
"I don't know what college is like, so I don't know how much work it'll be; but since it's D-III it'll be less competitive so it'll be easier," said Kachaylo.  "I'm hoping it'll be more like high school so I can continue to play and do what I love."
When searching for a collegiate team, the 5'3″ midfielder drew her attention to one factor in particular: The coaching.  Chris Kouns, head coach for the Crusaders, fit the bill.
"I really like the coach.  He's pretty chill, he's pretty cool," explained the All-WPIAL athlete.  "I was talking to this one school and the coach was a jerk so I did not like that, and when I met [Kouns], he was real down to earth."
That coaching style might have a direct correlation to the team's record.  The Crusaders ended the 2013 season with a 19-5-2 record and number eight in the national rankings.  On top of it all, the team boasted a NCAA D-III national tournament semifinal appearance.
"They made it to the final four last year for D-III, so hopefully while I'm there we'll actually win a championship," Kachaylo said.  That's what I'm hoping."
Kachaylo had high hopes of going to a school far away, particularly the south.  Somewhere in the college search, however, she changed her mind to a school closer to home, particularly so her family could support her at games.
Like many other high school student-athletes, the 2013 All-Section athlete toyed with the idea of not continuing her soccer career.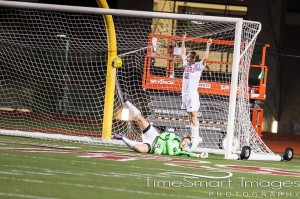 "I was debating if I wanted to play soccer or not just because I've played it for like 13 years and part of me wants to move on," reflected Kachaylo.  "But then I thought, if I have the opportunity now to keep going, I can.  Because after this, there's not going to be the same level."
Thoughts like these cross the minds of young athletes everywhere.  With so many options athletic- as well as academic-wise, it can be an overwhelming process to decide what path to take.  Especially for athletes similar to Kachaylo, who was involved in multiple activities including gymnastics, cross country, track, diving, and National Honors Society in addition to soccer.
Ultimately, if you'd ask Kachaylo, the benefits of high school athletics outweigh the drawbacks.
"It's more helpful, I'd say.  It really just makes you schedule yourself," she said.
She reflected on running cross country and playing soccer as a freshman "so that kind of disciplined me to stay on top of things." And then came the chance to drive. "I just wanted to hang out with friends all the time, and it was like, 'I have to go to soccer again' because you have it every day."
Kachaylo plans to study business and marketing, and has the goal of later adding an art-related minor.