Moon's Kelly Looks to Future, Appreciates Past
By Derick Woodard III, Moon News Cloud Contributor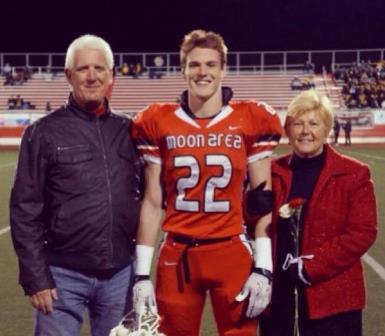 Pittsburgh has always been known for its hard-working, blue-collar citizens. Adults who looked up to their parents in admiration for their dedication and selflessness now have children of their own to raise. This cycle has made Pittsburgh, well, Pittsburgh.
This lifestyle is more than prevalent in the life of Moon Township's Ian Kelly.
Kelly, 18, is a senior at Moon Area High School, and has taken what he has learned from growing up in a diligent family and applied it to his passion: Football.
At Moon, Kelly is described as a humble yet outspoken leader in the Tigers' locker room.
He credits his personal hero, his father Leo, a steel worker at Neville Chemical since the age of 17, for the way he acts on and off the field.
"Everything that my brother, my sister, and I enjoy, he worked really hard for," Kelly said. "It never was about him, and I really appreciate that, and I think that he has instilled that on me as well."
This idea Kelly had about his father acting in a way that was "never about him" coincides with how Kelly's coaches and teammates felt about his commitment to his team.
Jimmy Farbo, a classmate and good friend of Kelly's, was recruited by Kelly to play football. The two often had played baseball together. To Farbo, Kelly was someone to look up to in times of distress.
"Ian was a hell of a leader on our team," Farbo exclaimed. "He always stepped in and lead the team in the right direction."
Farbo, who played free safety for the Tigers, also believes that if it wasn't for Kelly, the team would not have made the playoffs last season for the first time in six years.
"He brought us all together. People overlook the leadership of the players, but he was the heart and soul of our team," Farbo said.
His teammates were not the only ones who saw the characteristics of a superb leader in him. Even the man in charge of the team took note of his enthusiasm towards the sport.
Mark Washington, who finished his third season at Moon in 2013, has grown as a coach with Kelly on his team. He believes that Kelly was the "poster child" of the Tigers team motto.
"No excuses. That was what our team motto was, and no one illustrated that better than Ian," Washington said.
Coach Washington will have to go through his first season as the Moon's coach without Kelly in 2014. Since he was a rare breed that played offense, defense, and special teams, Washington admits it will be hard to replace him.
"I will definitely miss him, both as a player and a person," Washington stated. "It'll definitely take more than one player to fill the void left when Ian moves on."
Last month, Kelly signed his letter of intent to play football at West Liberty University in Wheeling, WV.
"Playing in college has always been a dream for me," Kelly said. "I never really thought about it much, and tried to take everything week by week. I just let everything transition by on its own, and I'm excited college football is the next step."
As for what he wants to do when he graduates? Well, like a lot of people his age, one word can perfectly describe his mindset.
"Undecided," Ian said. "At least for now."
One thing is for certain: the characteristics that got him this far in his football career will be sure to help him succeed through the rest of his life, both in work and family.