Obama, Biden Complete Second Visit to Pittsburgh Area in Three Months
By Haley Sawyer, Moon News Cloud Contributor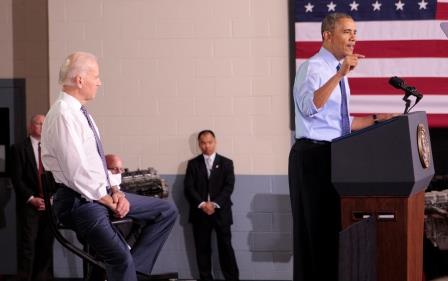 President Barack Obama and Vice President Joe Biden visited the Community College of Allegheny County West Hills campus in Oakdale last week to further emphasize their middle class employment initiative.
Each was clad in dress pants and a button down shirt.  No suit is needed when trying to connect with middle class Americans.
After touring the classrooms, the vice president was the first to approach the podium.
"The point is real simple," said Biden.  "The backbone of this country is a strong and thriving middle class.  That's not hyperbole.  That's not because I'm a Scranton kid or everybody trying to make me Middle-Class Joe.  It's true.  It's been the backbone of America, the distinguishing feature of our economy over the last 150 years."
Obama noted the importance of job training and praised CCAC for its curriculum.  He continued by saying that high school curricula as well as other continuing education curricula need to be reformed for a more relevant education that teaches the skills employers are looking for.
As a way of pushing this idea, the president announced that the government will reward schools that create the best opportunities and results for graduates with portions of a $500-million grant.
An additional $100-million will be awarded for "American Apprenticeship Grants."  This money will be used to aid schools in furthering apprenticeship programs.
"Everybody who works hard and takes responsibility deserves a chance to get ahead," concluded Obama.  "That is what this country is built on.  That's what the moment requires. That's what Congress should be working on.  That's what Joe is working on.  That's what I'm working on.  That's what you're working on.  And if we keep on working, we're going to move forward."
Supporters, students, and educators of CCAC were thrilled about the presidential visit.
"It's a huge honor," said Elizabeth Johnston, a CCAC employee.  "I can't imagine anyone who wouldn't be thrilled to welcome not only the president but the vice president of the United States and to have the president and the vice president showcase the many fantastic programs that we have here at the college is such an honor."
The announcement of the grants and focus on giving average Americans more skills so that they can advance in their careers comes at a time when most are led to believe that college is the only option that leads to a job.
"I really believe they're going in the right direction.  A lot of what we hear nowadays is that you have to go to a college, a university, get a four year degree and I don't believe that," explained Paul Blackford, facilitator and curriculum developer for the mechatronics program.
"I think what you can do is go to a technical situation like this, maybe get your associates degree, and in doing so, spend a lot less money and be able to go right out into the workforce in an area where there's a dire need right now," he continued.  "And that's what I heard [Obama] say.  When you're journeying, apprenticeship programs, that's what it is.  It's going right into the workforce and learning right away and making good money."
About the Photographer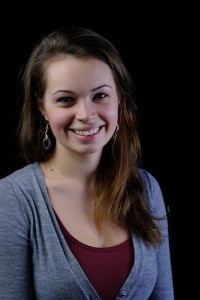 Haley Sawyer, Assistant Sports Editor
Haley is a junior communication major with a concentration in journalism.  She is involved in both print and broadcast journalism at the Academic Media...