Pittsburgh Rallies for Equal Pay for Women
By Leah Fleischel, Moon News Cloud Contributor
Local politicians, activists and supporters gathered in downtown Pittsburgh on Thursday to rally for equal pay for women.
The White House may be working to close the gap when it comes to what American women earn as opposed to American men, but cities and corporations must also begin efforts to do the same.
"When women succeed, America succeeds," said President Barack Obama on April 8 during a speech on Equal Pay Day.
Obama has been urging Congress to pass more laws to close the gap, but the gap is not the same in all areas of the U.S.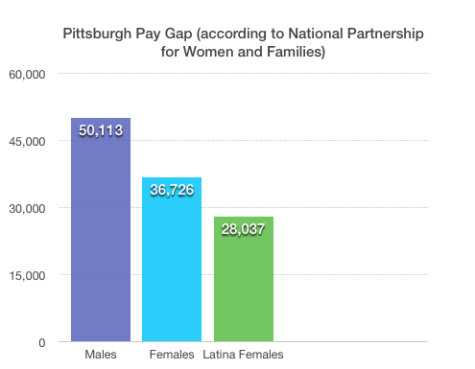 According to the National Partnership for Women & Families as stated in the Pittsburgh Post Gazette, on average a woman in the Pittsburgh are who works a full-time job is paid $36,726 per year while a man who holds a full-time job is paid $50,133. When the numbers are calculated, women in the Pittsburgh area are paid 73 cents for every dollar paid to men here, amounting to a yearly gap of $13,407. The statistic is not just for full-time jobs in general, but also when workers have the same amount of education and hold similar positions. The gap increases further in rural communities and for women of color.
Thursday's rally was sponsored by the Women and Girls Foundation, and rallies have been held in the Pittsburgh area since 2005.
At the rally, volunteers sold baked goods that men could buy for $1 while a woman was charged only 75 cents.