Quaker Valley Entrepreneur Looks to Expand Clothing Line
By Max Rickard, Moon News Cloud Contributor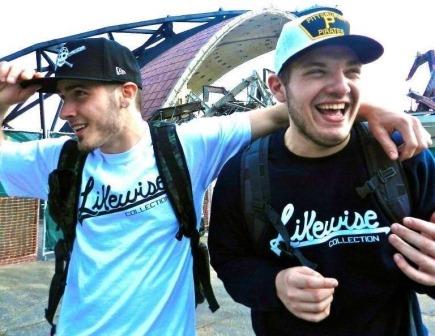 Steven Ford, right, and a friend show off part of Ford's "Likewise Collection" clothing line
Quaker Valley graduate Steven Ford has his mind set on one thing: making his clothing line a major brand name. Ford is in the process of completing the steps to expand his business.
"I just wanted to have a creative outlet in business," Ford said, when asked why he opted to get involved in clothing. "Doing something I enjoy by creating a product that people enjoy and believe in."
'Likewise Collection' has been in business since April 2013 and has sold a little over $2,500 in merchandise.
The name came about when Ford asked a friend to help create a name for his future company.
"We were sitting in study hall trying to think of names and I told my friend that I had nothing on my mind," he said. "He responded 'likewise.' From then on we used 'likewise' and added the 'collection' a few weeks later."
Ford started by spending $400 of his own money to get his shirts created. His first line of products included t-shirts, tank tops and hoodies. They were sold through Facebook and Twitter only. All money that is made from his products is put right back into the business.
Ford is in the process of creating a website for a more stable platform to sell his product. He has been in talks with lawyers about getting his name trademarked before launching his website. This will also increase the legitimacy of the product itself.
Ford says that he has been negotiating with a new designer clothes business that is opening this spring in the Pittsburgh area. He feels that if he can get a deal with done, he may have something on his hands.
"With the new website about to launch in May and the possibility that my product be sold in a store, it will only push me to work harder," Ford added.