Sewickley's Sweetwater Center for the Arts Welcomes Unusual Creatures
By Derick Woodard III, Moon News Cloud Contributor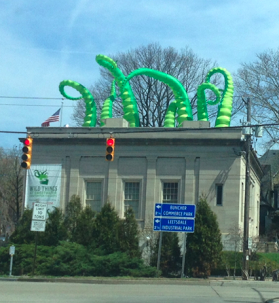 If you've entered Sewickley by crossing the Sewickley Bridge over the last few weeks, chances are you have seen the giant, green tentacles protruding from atop the Sweetwater Center for the Arts.
The 30-foot inflatable sea creature, created by British Street Artist Filthy Lurker, is part of Sweetwater's new exhibit, Wild Things.
The summer long campaign was introduced to create awareness of the many things offered at Sweetwater, including art classes, outreach programs, and other community events. Along with what is already offered, the center will also have "Wild Thing" themed exhibits, family days, classes, and summer camps for children.
The Wild Thing exhibit itself seems to be the most anticipated. The building will be full of 2-D, 3-D, and kinetic works of art, all pertaining to the theme. A lot of the work on hand will by from Cynthia Shaffer, a mixed-media artist from southern California.
A lot of Shaffer's art surrounds bugs, bones, and sea creatures created on traditional art materials, and this exhibit will be sampling a little bit of each from this creative artist.
Another highlight of the summer for Sweetwater will be the Family Day planned for June 7, from 11 am-4 pm.
Children will be given a passport so they can explore each room of the Sweetwater facility. In collaboration with local non-profits, the center will have several workshops, including games, stories, crafts, and other activities that let each visitor find their own "wild side".
The activities planned for the summer at the Center for the Arts have the attention of local residents, such as Bobby Malackanich.
"The monster really caught my eye as I was driving through the area on my way to work," Malackanich said. "After seeing the tentacles I looked into what Sweetwater had to offer, and I can't wait to get my family down there in June."
Different themed camps run begin on April 25. The age range is from 4-17 years old for the different camps, and there are different themes for each, so a child can pick their favorite, or even attend more than one. Online enrolling for these camps has already begun.
If you are unable to get down to the Sweetwater Center itself, there are also a few festivals they will be attending, including the The Three Rivers Art Festival in downtown Pittsburgh on June 14-15.