Nu Music, Nu Masks, and Nu Metal
Hang on for a minute...we're trying to find some more stories you might like.
"Step inside!" screams Corey Taylor over the sound of roaring guitars and thundering drums as he invites you into his latest single "The Devil in I." The song, which made its music video premiere September 12, is the newest single for Slipknot's upcoming fifth album, "5: The Gray Chapter." This album is the band's first in six years after the death of their bassist Paul Gray.
While the Nu Metal band may be getting old, there is still something excitingly nostalgic about the prospect of a new record. What makes this song so exciting is not the music itself, but the music video. As any Maggot (the official name for a Slipknot fan) would know, a new album era marks a very important event: new masks!
While the scary masks may be gimmicky, there's still something fun and immersive about watching killer clowns or undead monsters head-banging away to the sound of shredding guitars. Since they announced their new album this past summer, fans have been eager to see the new masks, as well as another much more controversial change.
Since their debut album in 1995, Slipknot has been known for two things: Scary masks, and having a rather bulky lineup of the same nine musicians. Impressively, these nine musicians stayed consistent up until the death of Gray in 2008. But Gray is not the only member being replaced. Drummer Joey Jordison announced his departure from the band, leaving only seven original members. That is why the release of this music video had been so eagerly awaited.
Up until its release on Friday, Slipknot had remained incredibly quiet on the identities of the new members. They built up mystery as to who would be joining the remaining seven, as well as the reveal of the new masks. "The Devil in I" delivered results for both mysteries, at least partially. The video consists of the original members playing to the song in what appears to be a nightmarish insane asylum, with each member wearing their new mask. To coincide with their new image, they all find a way to destroy themselves – through explosion, burning, cannibalism, etc. – with most of them doing so while wearing their old masks. This act symbolizes their rebirth for the new album.
In addition, two straightjacket-bound patients are wheeled around in motorized wheelchairs. These patients are the new members. They wear identical masks, a fact that Taylor revealed before the video's release, and are soon surrounded by the rest of the band who stab them to death in what seems to be a sort of initiation. Afterwards, they are seen playing with the rest of the band. While their identities still weren't officially revealed, the Internet quickly caught on to the tattoos and mannerisms of each masked musician, and revealed them to be Alessandro Venturella and Jay Weinberg.
So what's the big deal? Well for one, the masks are insanely cool, and the video is full of artistic flares, rack focuses, and creepy imagery to compete with an American Horror Story intro. The video is loaded with morbid practical effects that shock, and the song speaks (or sings) for itself. Hauntingly melodic verses give way to driving guitars and pounding drums in the song's chorus.
While the song is creepy, there's still one complaint: it's uninspired. It struggles to stand out against the band's other songs, and most of today's metal music in general. But what it lacks in originality, it makes up for in good, old fashioned, head-banging fun.

About the Writer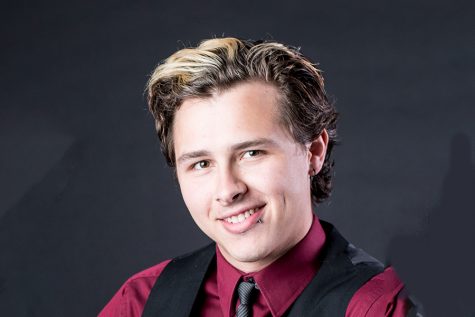 Sean Koepfinger, Assistant Arts and Entertainment Manager
Sean is a Senior Digital Cinema and Television Production major at RMU.  He is currently the Assistant Arts and Entertainment Manager for RMU Sentry...