Air Quality Alert across the North East from Smoke Caused by Wild Fires
Anyone who opened their windows or doors to go outside may have noticed that the sun and sky appear to be in a haze. Similar to what many would say is straight out of a movie about war.
The cause for the smoke is the wildfires in Canada, which were largely started by lightning in the face of a hot and dry season whereas some were manmade according to CBS. So far about 3.3 million hectares or about 8.15 million acres of land have been burned according to Reuters. Approximately 120,000 people have been forced away from their homes as the 413 fires remain active with "249 deemed out of control," and an additional 26,000 being put under evacuation orders.
With winds pushing southward from the north, smoke from these fires has shifted into the US from the Midwest into the North East. By early Tuesday morning, the entirety of the North East was put under Air Quality alert and continues to remain on alert for the next few days.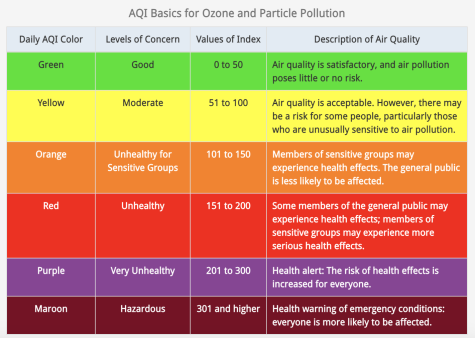 The Air Quality Index known as AQI, is a system that determines the quality of air and the effect it will have on public health. Six categories range from Good (Code Green) to Hazardous (Code Maroon). Code Green is an index of 0-50 where the air is considered safe. Code Yellow is 51-100 in which the air is acceptable except for some people. Code Orange at 101-150 is when some sensitive groups will be affected. Code Red stands at 151-200 where the general public will feel some effect. As for Code Purple at 201-300 and Maroon at 301 or higher is when all groups will be severely affected.
In the city of Pittsburgh, they have so far remained in Code Yellow or Code Red, with Tuesday being under Code Orange and Wednesday being Code Red. Some cities, such as Philiedlaiphia and New York have been dealing with Code Red and now Code Maroon according to EPA's AirNow. IQair, which tracks the air quality and pollutants of cities, has now marked New York City for the second day in a row, as the most toxic in the world, with Toronto Canada coming in fourth.
It is likely that the smoke will continue to remain in Pennsylvania and the rest of the North East for the next couple of days unless the winds shift. However, so far, the EPA's AirNow interactive map displays no change or it may get worse. AirNow is also providing civilians the ability to learn about the current status of their location.
With the rest of the North East being put on alert, there are ways to protect yourself and others. The best thing to do is remain inside and keep doors and windows closed as recommended by Brady Scott, a fellow at the American Association of Respiratory Care. It has also been advised to keep homes well-ventilated, and those who need to go outside should wear a mask such as an N95.