Annual town hall meeting held for fall semester
Hang on for a minute...we're trying to find some more stories you might like.
The annual fall town hall meeting for Robert Morris University was held Monday from 3 to 5 p.m. in the International Suite of the Charles L. Sewall Center.
After some opening remarks by Interim President David Jamison, President-Elect Christopher Howard took to the podium to address the RMU community. He discussed how he plans to run the university and propel it forward.
"(The) president can't do anything by himself—I mean that, 100 percent. And that's not just me trying to be funny or make a quip, or what have you," said Howard. "The president cannot do anything by himself… The president works with the team."
One of the main points of the meeting was the topic of enrollment. Wendy Beckemeyer, vice president of enrollment and financial aid, discussed enrollment for the current school year as compared to the previous year.
"We are are above headcount for our full-time students, this would be new and continuing. We've met our goal, we're at 100 percent. But there are some populations where we haven't met our goal and last year it looked a little bit different than it does this year," said Beckemeyer.
Enrollment was above target for the online master's students, but the budget target was missed for online undergraduate students. There was also a lower enrollment for part-time credits due to to full-time jobs being available and shifts in the economy. This decline of part-time credits has been consistent for the past five years.
"We think about having 60,000 credits each fall—this (part-time credits) is about one thousand to fifteen-hundred credits—but when we haven't met our target, the revenue is still extremely important in every single segment. So the fact that we're down in part-time credits still has an impact on our budget," said Beckemeyer.
The total number of students has dropped from 5,552 students last year to 5,381 this year. New students have a stronger profile with an average SAT score of 1,055 and GPA of 3.48. There has been an influx in out-of-state students and a decrease in international students. Saudi Arabian student enrollment discussed how the cap of Saudi students allowed in the engineering programs has been reached causing a drop in international enrollment.
Jeffrey Listwak, vice president for financial operations and treasurer of financial operations, discussed how the university is down versus the prior year for the budget. Freshmen to sophomore retention is above budget, unlike all the other classes which are below budget. Financially, housing is on the rise.
"Overall… we are a tuition driven institution. The majority of our fees, about ninety percent, are headcount or student related. Therefore, when enrollment is down, that has an impact on our budget," said Listwak.
Currently there are 2,040 resident students and only 1,965 beds—a 103 percent capacity. Due to the high demand of returning students wanting to live on campus, incentives to live off campus were provided with 40 students taking that deal.
"People want to live here, we're excited by that. But it puts a lot of pressure and strain on the facilities, the living environment. We have no lounges for the students so the challenge is there for the (Residence Life) people," said John Michalenko, vice president for student life.
The residential population is currently at 54 percent. The number could have been at 56 percent if the university had the beds to accommodate everyone who wanted to live on campus. The goal of the university is to be at 58 percent residential meaning that there will need to be a total of around 2,400 beds. The strategic plan for Robert Morris shows that this is where the university wants to be by the year 2019.
The year 2015 has brought about many new projects for the university. Some of these include the new sign on Yorktown Hall, the opening of Scaife Hall and new parking, the new library entrance, the updates to the facade of the Patrick Henry building and the update to Hopwood Hall. Robert Morris Athletics have also gotten improvements with the resurfacing of the Joe Walton Stadium turf with updated graphics and the remodeling of the men's and women's hockey locker rooms at the RMU Island Sports Center.
The university is in the midst developing plans for a new event center. This project had a projected completion date of the fall of 2018, pending funding.
"It is planned to feature a grand entry hall with digital media, a hall of fame, a pro shop, concessions area with seating, a VIP club, arena, and practice gym, men's and women's basketball locker rooms, and women's volleyball locker rooms," stated in a video shown by Perry Roofner, vice president of facilities.
Along with the hopes of a new event center come the planning of a left turning lane with left turning signal into the main entrance of university off of University Boulevard.
About the Writer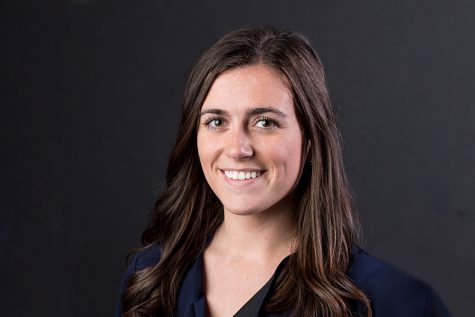 Delaney Hassell, Social Media Manager
A communication major with a concentration in journalism and a minor in psychology, Delaney is one of the Social Media Managers for RMU Sentry Media as...