Business Week is coming to RMU
Robert Morris University and the School of Business is proud to announce the hosting of the inaugural Business Week running through Feb. 24-27, 2014.  The week is designed to help students prepare for their future careers in business.  Many events and activities are planned including panel discussions and presentations by members of the business community.
Newly appointed Business School Dean, Dr. John Beehler, was instrumental in starting the Business Week at Robert Morris.  Before joining RMU, Beehler held positions at the University of North Texas at Dallas, Northern Kentucky University, and Wichita State University.  It was during his time as Dean at Wichita State University and Northern Kentucky State University that he started an event for all business majors known as Business Week.
"Students need to start thinking about their careers once they step in the door," explained Beehler. "Whether you are a freshman or a senior, we have sessions within Business Week that are going to help you to think about career preparation and what it takes to be a professional.  A lot of the different aspects go into being a professional in business and related fields."
With the help of Dr. Patrick Litzinger, Interim Associate Dean and Department Head of Economics & Legal Studies, the two gentlemen have been at the head of Business Week planning and organization. Litizinger took upon the role as Chair for the Business Week Committee.
"Many of the sessions were put together by the students," said Litzinger, crediting the student's influence on the event itself.
Litzinger and Beehler acknowledged Patrick Beam, President of the Society for the Advancement of Management, who was instrumental for organizing this years keynote address session featuring RMU alum Rande Somma.
Somma was President and CEO of Automotive Group Worldwide, a division of Johnson Controls Incorporated. His keynote address will be held 6-7:30 p.m. on Feb. 27 at the Ferris Ballroom in Yorktown Hall.
Along with the various departments within the School of Business and the RMU Career Center, various student organizations such as the American Marketing Association, Prelaw Society, Sports Management Association and the Association of Future Accountants organized sessions for Business Week.
Because of the involvement of individual students and student organizations, this event exemplifies how the students are pushing to improve the school's experience.
During the event, student attendance cards will be passed out for students to record what and how many sessions they have attended.  The attendance cards given out at each session will also enable instructors to give the necessary credit for class or SET credit.
"We have also made arrangements that students who attend sessions can receive SET credit," said Litzinger."They need to attend five sessions to fulfill the Business Professional credit."
According to Beehler and Litzinger, numerous Robert Morris faculty, students, staff members and business professionals have contributed to the planning and organization of Business Week.
Since this is the inaugural year for the event, this years Business Week will run as a test for the future.  Every year, the event will have a different theme, different speakers and topics.  Next year's Business Week will also run Monday to Friday unlike this year.
The inaugural Business Week theme is "Setting Sail: Charting Your Own Course", with programming focused on topics such as careers in various business disciplines, dress for success, professional image, diversity, women in business, becoming a CPA and personal finance.
RMU Business Week will continue to set Robert Morris University aside from other schools in the region and country.  It is with hope Business Week will continue the vision of the School of Business and the entire university
Notes regarding Business Week:
Business Classes are not cancelled the week of RMU Business Week.
Students of different majors are welcome to attend the events.
Students are asked to dress 'Business Professional'.
Sessions will occur at the Sewall Center, Massey Hall and Yorktown Hall.
Various refreshments will be at select times during Business Week.
Follow RMU Business Week on Twitter @RMUBusinessweek
About the Contributor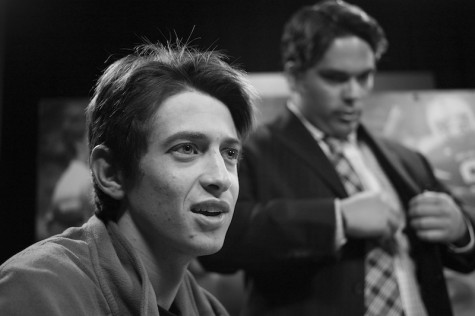 Mike Funyak, Staff Reporter
A Senior Business major with a concentration in Management at Robert Morris University, Mike is a Staff Writer and Blogger for "The Sentry."

In...