Career expo gives students a taste of respective industries
On Tuesday October 2, current and alumni students of Robert Morris had the chance to check out the 95 employers who participated in this years Career Expo.  Upon entering the Sewall Center, students and alumni took the opportunity to talk to employers about future internships and job openings.  There were even current and alumni students representing companies.
Grant Miller, a junior student, is currently working in a Co-Op program for U.S. Steel until December.  Grant was on hand to help U.S. Steel at the Career Fair to inform other RMU students of the opportunities at U.S. Steel.  Grant Miller explained his internship has been a challenge but a great experience.  "They throw you right in, but it's been a positive experience" said Miller.  Also representing U.S. Steel was RMU alumni Kyndra Szymanski.
It seemed RMU alumni were everywhere. David DeMaria and Scott Turnbell, this years representatives from FedEx Services were among the now employed RMU alumni representing a company at the Career Expo.  DeMaria graduated from Robert Morris in May 1999 while Turnbell graduated last year.  Both DeMaria and Turnbell explained how they started at FedEx as interns after graduation.  They explained how through their internships, it allowed them to be offered a job.  David DeMaria explained, "I was an intern and coming back to RMU, I wanted to inform students of the opportunities we offer."  Both DeMaria and Turnbell agreed that the Career Fair at RMU offer great opportunities for current and alumni students to see what companies in the region have to offer.
Each class was represented as someone from each graduating class attended the event.  Those in attendance came to see what companies were represented, learn more about them, experience such an event, and potentially receive information about internship and job offerings.  There was something for everyone at the 2012 Career Expo.  "I wanted to get the most out of the Career Expo."  "I wasn't expecting anything, but I did talk to someone about applying for a job," stated freshman Austin Brown.
The 2012 Career Expo offered a large variety of employers representing diverse professions.  Those who picked up an Employer Directory upon entering would find the words "Your Success if our Goal" on the first page.  If you did not attend this year, attend next year and see what opportunities are waiting for you.
About the Writer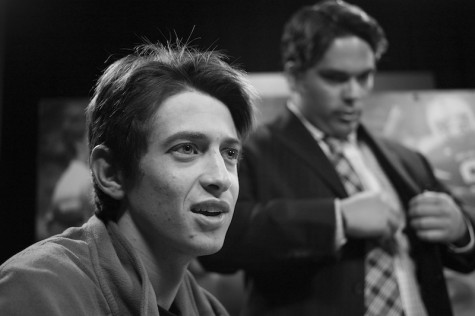 Mike Funyak, Staff Reporter
A Senior Business major with a concentration in Management at Robert Morris University, Mike is a Staff Writer and Blogger for "The Sentry."

In...