Changes at Kennywood Park
Kennywood Park received the award for the Best Funhouse/Walkthrough Attraction in the world for "Noah's Ark." The award was presented at a ceremony at Lake Compounce in Bristol, Conn., by Amusement Today. This is the eighth consecutive year that Noah's Ark won the award.
"The Ark really is a one-of-a-kind ride," said Nick Paradise, director of public relations and social media. "At one point there was a lot of rides that were 'Noah's Arks' rides in different parks and in different parts of the world, and now Kennywood's is the only one left."
Last year, the "Noah's Ark" attraction received a major renovation including bringing back the original entrance to the ride, which featured a giant blue whale and squishy foam floor that mimicked a whale's tongue.
Paradise explained that the park tried to make the ride more high-tech, but was met with rebellion from guests. Guests reportedly wanted the ride to stay the same basic funhouse upon its opening in 1936.
"We tried to make it a little more modern and high-tech, but we found from our guests that they didn't really want that as much as they wanted the old school, the retro or maybe even a little cheesy 'Noah's Ark' style," said Paradise.
In addition to the award at Kennywood, their close-by sister park Idlewild and SoakZone in Ligonier was also recognized at the awards ceremony. Idlewild was awarded the Golden Ticket Award for being the Best Children's Park in the world for the eighth straight year.
"While Idlewild & SoakZone appeals to people of all ages, it is especially appealing to families with young children," said Jeff Croushore, director of marketing at Idlewild and SoakZone. "We go to great lengths to carefully balance our low-tech classic attractions such as 'Story Book Forest' and 'Jumpin' Jungle' with unique experiences like 'Daniel Tiger's Neighborhood' and the excitement of the 'SoakZone' water park. And our collections of rides are purposely conceived to be enjoyed by virtually every age category."
Kennywood announced before its final weekend of full summer operation that it would be retiring one of its water rides, the "Log Jammer." The ride opened to the public in 1975 and was the park's first million-dollar attraction. Originally designed and installed by Arrow Dynamics, the attraction has been serving guests for 42 years. Guests had only two days after the announcement of the closing to ride the attraction before it gets removed.
"It has been really tough the past several days and the last several weeks as it looked like it might be a possibility," said Paradise. "We did get word officially that we were going to do this and we were able to share that with our guests. It's a tough decision. It has been a treasured ride here for a long time. The name of our game here at Kennywood is to maintain and preserve unique and historic rides, but we also have to move forward and stay caught up with the cutting edge and be more modern."
The park has not released specific plans for the area that the Log Jammer currently uses but is currently reviewing submissions and proposals, reports Paradise. They remain excited to release what the area will be used for in the near future.
About the Writer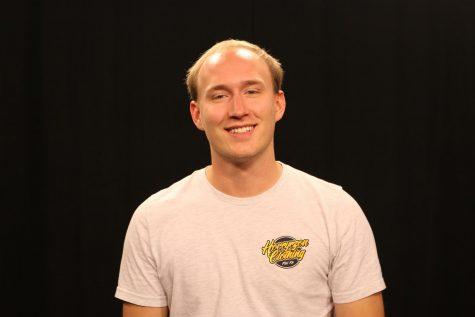 Gage Goulding, News Editor
Gage Goulding is a senior Applied Journalism major with a minor in Public Relations. Gage is the Lead Anchor for RMU Live as well as a package reporter...