Christopher Howard inaugurated as RMU's 8th president
Morgan Torchia
Students, faculty and members of the community came to Robert Morris University Friday for the inauguration of President Christopher B. Howard, D.Phil.
David L. Jamison, J.D., provost and senior vice president of academic affairs at RMU was the first to speak at the event welcoming President Howard to the presidency.
"The Robert Morris University family proudly welcomes you to the inauguration of Christopher B. Howard as the eighth president of Robert Morris University," said Jamison. "This is indeed a great day for this university, for only the eighth time in our 95-year history, we observe the installation of a president."
Joshua Howard, son of President Howard, gave a short speech on what his father means to him and welcoming RMU into their family.
"Although my father's resume is expansive and impressive, it is his actions and lessons that he continually stressed in my life that have influenced me the most," said Joshua Howard.
Aveenash Kumar spoke on behalf of the student body welcoming Howard to RMU who arrived at the university just eight months after Kumar moved to the U.S. from Pakistan.
"RMU is a place marked by people who are proud, hungry and driven," said Kumar. "And today, you (President Howard) get to officially say that you are a part of the 'PHD' (proud, hungry, and driven) family too."
The Keynote Speaker, Lt. Gen. Michelle D. Johnson spoke next after receiving her Honorary Degree. She had been Howard's academic advisor at the Air Force Academy when she was an assistant professor of political science.
"Chris, I see from your colleagues and your board that your charge is to ensure that RMU remains a force of good," said Johnson. "It is here that raw ideas, at times controversial, can be discussed openly and freely."
Richard J. Harshman, the chair of the board of trustees and the head of the presidential search committee that named Howard, gave his thoughts and reflected on the day.
"Today is the culmination of all of our efforts," says Harshman. "This is the formal recognition of Dr. Howard and his leadership of RMU and well into the future, we hope."
President Howard then went on to give his inaugural speech where he talked about his family history and the history of RMU. He also spoke of his pride in the university and his hopes for the future.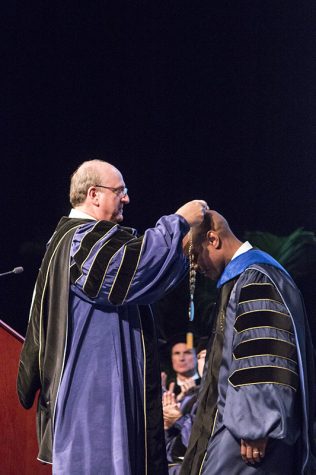 "RMU can do better because RMU is a great American story," said Howard. "And because RMU is a great American University. Robert Morris University, your university, is now nationally ranked number 188 on the U.S. News and World Report List; not too shabby for ol' Bobby Mo, eh?"