Colonial Chaos shoots big for Cystic Fibrosis
The second annual Colonial Chaos was nothing short of what its name promises. Those who call themselves Colonials rallied together on the court throughout the day on Feb. 19 to raise a grand total of $8,516.83 for the Cystic Fibrosis Foundation.
The chaos featured a day full of contestants shooting as many free throws as possible in six minutes. The first half of the day was held at the Gus Krop Gym in the John Jay Center. This portion was filled with students competing against each other.
The primetime portion, held in the Charles L. Sewall Center, produced the most buzz and excitement.
The stars came out in full force under the bright lights of the Sewall Center. The rules were the same: six minutes to make as many free throws as possible, but the names were bigger. Among those involved in the contest were Steve from RoMo's, and John Tucci.
One of the marquee matchups featured basketball stars Artemis Spanou and Lucky Jones. Jones took the contest with 151 free-throws made to Spanou's 144.
"He had a good start, but I was right there," said Spanou."I competed, so I'm good."
The sharp-shooting Karvel Anderson took the night with an astounding 157 free-throws made, the last few coming from Anderson shooting with his weak hand for the crowd's amusement. He competed against fellow RMU basketball player and his own girlfriend, Ashley Ravelli. He also beat out last year's winner, men's basketball head coach Andy Toole, who finished with 145 free-throws made.
"It was fun because he beat me last year," said Anderson. "I thought I had it won so it was nice to beat him."
Toole competed against his wife in the competition.
"We want to come out and support anyway we can, we were involved in it last year," he said. "As soon as Zach asked us to be involved last year we were completely on board. It just makes sense to do it, it's a good cause."
Other fun matchups included university president Dr. Gregory Dell'Omo, who beat out RoMo the mascot.
"It's a great program, a great fundraiser, and the students do a wonderful job," said Dell'Omo. "It's just great to come out here and have all this fun and raise money for a good cause."
With the fun and success of this year's Colonial Chaos, the competitors and fans can hardly wait to do it all again next winter, and for the sake of a good cause.
About the Writer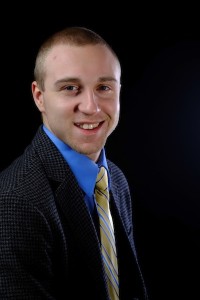 Vince Russo, Assistant News Editor
Vince Russo, a freshman communications major with a focus in journalism, is the Assistant News Editor of the Sentry, RMU's student-run newspaper, where...