Deepher dude raises over 2 grand for Cystic Fibrosis
This past Thursday night, Nov. 15, the Delta Phi Epsilon sorority continued their tradition of the "Deepher Dude," male beauty pageant on campus. Guys from various organizations around campus compete for the title of, "Deepher Dude," in competitions ranging from outfit of choice, swimwear, talent, and on-stage questions.
Cystic Fibrosis is an inherited genetic disorder that infects the lungs and digestive system. According to the Cystic Fibrosis Foundation, in the United States, approximately 30,000 individuals have CF, most of which are diagnosed by six months of age.
Nick Dell'Omo, the son of the President of the University, Greg, and Polly, a professor at RMU, spoke at the event before the contestants came out.
"On Friday, April 5, 1995, on my eight and a half birthday," Dell'Omo said. "I was diagnosed with CF and it truly has changed my life every day since then, doing daily treatments, medications, and regular doctor visits."
Dell'Omo went on to explain that, just 30 years ago, if you were a victim of CF, you would be considered lucky to graduate high school. Today, however, the median age of victims of CF is 40 years old.
The 11 contestants included Joe Howe, Justin Budai, Zack Uhler, Connor Martin, Mike Ludwig, Ryan Martin, Danny Bonaventura, Zach Reichard, DJ Meyers, Eric Wallace, and Cody Redmond.
Admission was just three dollars, if you presented a Freedom Card at the entrance, or five dollars otherwise per attendee. DPE also sold a variety of event programs and a Chinese auction was situated off the main event area.
The winner of the, "People's Choice Award," for most amount of money raised in their individual bag throughout the entire event was Cody Redmond, with a total of $79 in his basket. The Runner-up for the competition was Michael Ludwig, receiving a total of 351 of the judge's votes. And the winner of the, "Deepher Dude 2012," title was Zack Uhler, narrowly winning with a total of 367 of the judge's votes.
"I hope after this competition is over, not only do we raise money but also awareness for Cystic Fibrosis." Kayla Sample said, a member of the DPE sorority.
The sorority's goal for the event was to raise a total of $2,000. They surpassed their goal by more than $200 by raising a total of $2,238.
Every dollar of the total money raised will go to benefit the Cystic Fibrosis Foundation.
About the Writer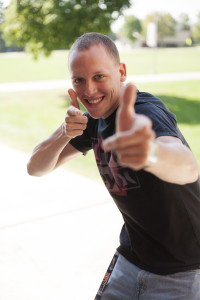 Patrick Ryan, Assistant News Editor
Patrick is a junior journalism major with a minor in photography at RMU. He is also the News Editor for RMU's student-run newspaper, "The Sentry."

In...