2017 FLEAP program destinations announced
The Faculty Led Education Abroad Programs (FLEAPs) were announced in the Rogal Family Chapel on Oct. 13.
The FLEAP program is heading to 13 different countries in the spring 2017 semester. There are 10 new countries that the 15 different programs will be held in.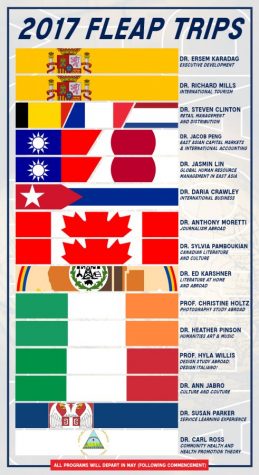 The School of Business is holding six different programs in the countries of: Spain, Belgium, France, Netherlands, Taiwan, Japan and Cuba. Jasmin Lin, PhD., associate professor of management, will be a professor taking a group to Taiwan and Japan.
"In both intensive and affordable study abroad course, our students will gain firsthand socioeconomic experiences while being immersed in the Japanese and Taiwanese cultures," said Lin. "Students will have chances to communicate and exchange ideas with Taiwanese and Japanese students as well as local and domestic economics and business professionals."
The School of Communication and Information Systems will go to Canada, Ireland, the Navajo Nation and Italy. Edward Karshner, PhD., associate professor of English, has worked with the Navajo Nation for 10 years. He will be taking students to learn about the culture, philosophy and history of the Navajo People.
"The Navajo are not like the "Indians" we see on TV," said Karshner. "The Navajo people have a vibrant and fascinating belief system that is worth studying and learning from…The Navajo People are real people, with real jobs and real lives but with a different way of seeing and living in the world."
The School of Education and Social Sciences will be going to Serbia. While the School of Nursing and Health Services will be going to Nicaragua. Carl Ross, Ph.D., university professor of nursing, is making his 96th trip for the program.
"Nicaragua is a service learning trip. We actually work in the barrios (poorest communities) of Nicaragua where they have very limited healthcare," said Ross. "So I teach community health principles, health assessment and nursing care of a variety of conditions. I also teach trans-cultural nursing concepts. Nurses today need to be prepared to take care of a variety of cultures in the U.S. as a result of our growing immigration."
The class taken is part of the tuition paid for the spring 2017 semester. Any additional costs could be for things like accommodations, traveler's insurance and some meals. Scholarships are also available for the FLEAPs. Flights for the program will be finalized in January.
For more information on the FLEAP program, go to the Center for Global Engagement.