Give to get at SCJ's Balancing Out Hunger Food Bank fundraiser kickoff
Thanksgiving is right around the corner along with the end of this semester. While students will return to campus in January, none of the funds leftover on their meal plans will follow them into the spring semester.
Robert Morris University's Society for Collegiate Journalists (SCJ) is offering a solution this semester for not letting those meal plan dollars go by the wayside.
On Thursday, Nov. 21 from 5 to 7 p.m. in the Nicholson Food Court, SCJ will be holding its Give and Get Kickoff event for its bi-annual Balancing Out Hunger Project, which allows students to donate their extra meal plan funds to the Greater Pittsburgh Community Food Bank just in time for the holiday season.
For every $10 any RMU student, faculty or staff member donates on Nov. 21, he/she will receive two raffle tickets to enter to win one of five baskets, including an Avon, home décor, RMU Athletics, coffee, and night at the movies themed baskets.
SCJ's advisor, Dr. Anthony Moretti, explained that this event is SCJ's largest community event that the group puts together each semester.
"SCJ members understand the importance of volunteering and making a difference in their respective communities. Balancing Out Hunger is our opportunity around the holidays to help the less fortunate," said Moretti.
RMU alum and SCJ member Ryan Shaffer launched the Balancing Out Hunger Project through SCJ back in 2010 to provide a unique way for students to not waste money left on their meal plans at the end of each semester.
Not only will students with meal plans be able to donate, but any commuter students without meal plans, faculty or staff can also donate via debit or credit card at any register on campus.
Phillip Stubbs, a community food connections coordinator for the Greater Pittsburgh Community Food Bank, has worked with SCJ to make this project possible each semester and thinks it is a great opportunity for RMU students.
"This is a great opportunity to get involved with community efforts. It also speaks volumes to future employers about your commitment to a better society of people paying it forward and it is a great cause," said Stubbs.
Current SCJ President John Klocko also believes it is a great cause for students to get behind.
"So many students let money go to waste on their meal plans, and this is an opportunity to actually use that money and help those who are less fortunate at the same time," said Klocko.
Following the Give and Get kickoff event on Thursday, Nov. 21 from 5 to 7 p.m., which will feature everything from raffles to live music and refreshments, students, faculty and staff will be able to continue to donate through Friday, Dec. 6 at any register on campus, including the Yorktown Café.
Since the Balancing Out Hunger Project began, Stubbs said that SCJ has raised enough money to help the Greater Pittsburgh Community Food Bank purchase nearly 1,000 meals for the less fortunate.
Klocko said SCJ hopes to raise enough funds to donate at least another 500 meals this semester alone.
For more information on this project, visit http://rmuscj.wix.com/balancingouthunger.
About the Writer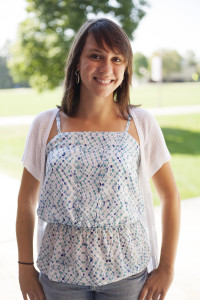 Andrea Zanaglio, Staff Writer
A senior journalism major at Robert Morris University, Andrea serves as a staff member this semester, writing and producing packages for all aspects of...