Jefferson Center's new initiatives encourage students to get active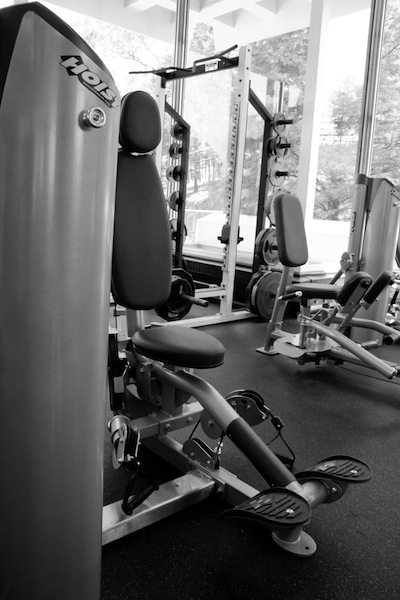 Located behind the Nicholson Center, the Jefferson Health and Fitness Center offers students the opportunity to stay fit throughout the semester through a variety of activities and workout equipment.
Campus Recreation Director Armand Buzzelli noted some new additions to Jefferson this semester, such as the center's motto Exercise Creates Winners, which has incorporated a monthly fitness competition, giving students a chance to earn a championship-wrestling belt, as well as the brand new HOIST ROC-IT weight machines, which have already been very popular with students.
"It's crazy down here this time of the year," stated Buzzelli. "We have a lot of people using the gym now, and I'd like to see that sustain over the course of the year."
This semester, Buzzelli is hoping to incorporate philanthropy with exercise, starting with the Bike MS: Cook Forest River Ride, a bike ride to raise money for multiple sclerosis.
RMU has formed a team for the event, and all are welcome to participate or donate to the cause. To sign up or donate, contact Armand Buzzelli at buzelli.rmu.edu or 412-397-5448.
While the bike ride takes place off campus, plenty of group fitness classes and intramural sports are available for students to take part in on campus.
Joining the numerous fitness classes already offered at the center this semester is TRX Boot Camp, which is held every Monday from 4 to 5 p.m. and Thursday from 6 to 7 p.m., as stated on RMU's website.
Rocco Ragano, a junior marketing major, teaches the class, which he said incorporates one's own body weight and resistance rather than physical weights.
Senior education major Samantha Kunes is also an instructor at Jefferson, teaching Spinning, a 45-minute workout that burns 500 to 750 calories, and Kettlebell Cardio, a 30-minute cardio workout that burns the maximum amount of calories.
Kunes encourages all students to come checkout the center and get active.
"Not only is it a great atmosphere, but it is the best place to come when you need a break from school or need to release stress," she explained. "If more students took time out of their day to come to the Jefferson Fitness Center and workout, they would be a lot healthier and be less stressed."
Ragano concurred that the center has a very welcoming atmosphere and also encourages students to visit Jefferson.
"It's a little smaller than people are use to, but it's a nice, personal feeling," he said. "You don't get a lot of the meatheads you have at a normal gym, so people who are just starting to lift can feel a little more comfortable here."
Like the RMU Jefferson Health and Fitness Club on Facebook and follow @RMUCampusRec to stay updated on the classes and events taking place at Jefferson.
Fitness Class Schedule
Spin Class – Mondays and Wednesdays at 6:30 – 7:15 a.m. and 6 – 6:45 p.m.; Fridays at 6:30 – 7:15 a.m. Instructor: Donna & Sam
Zumba – Tuesdays and Thursdays at 5 p.m. Instructor: Rachel
Martial Arts Fitness – Wednesdays at 7:15 – 7:50 a.m. Instructor: Armand
TRX Training – Mondays at 4 – 5 p.m.; Thursdays at 6 – 7 p.m. Instructor: Rocco
P-90X – Monday through Friday at Noon – 1 p.m. Video Instruction
Yoga –  Tuesdays and Wednesdays at 9 – 9:45 p.m. Instructor: DeAnn
Pilates – Tuesdays and Thursdays at 4 – 5 p.m. Instructor: Alexandra
Kettlebell Cardio – Mondays and Wednesdays 5 – 6 p.m. Instructor: Sam
Abs 101 – Mondays at 6 – 7 p.m. Instructor: Paul
Abs 102 – Wednesdays at 6 – 7 p.m. Instructor: Paul
Colonial Boot Camp – Tuesdays at 5 – 6 p.m. Instructor: J.D.
Turbo Kick – Mondays at 7 – 8 p.m. Instructor: Jackie
Women's Fitness Hour – Monday through Friday at 8 – 9 p.m. Instructor: Open
[tfb username=AZRMUsentry count='true' lang='en' theme='light']