National Eating Disorders Awareness Week with The Renfrew Center
National Eating Disorders Awareness Week started on Feb. 26 and will end on March 4, but The Renfrew Center, an eating disorder treatment center, is holding the "This is Me" moment.
The "This is Me" moment is a social media movement where women and girls post #ThisIsME2018 attached to a photo on social media. The Renfrew Center is the eating disorder facility for women that now has 19 locations and has helped over 75,000 women.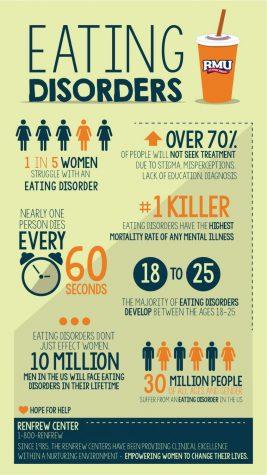 Tori Flick
"We create a community of women that can feel safe and inclusive to all," said Erin Wentroble, site director and expert at the Renfrew Center. "We treat all eating disorders: anorexia, bulimia and binge eating disorder as well as some of the sort of non-classical ones that we're learning more about as we go."
There are three levels of treatment when women go to The Renfrew Center. The first level is Residential Care, where patients live in the center and work through their treatment every day. Erin Fuller is an alumni patient that started in residential care.
"I consider myself in recovery, so that's good. I'm proud of myself for that," said Fuller. "It was really amazing to just be in a group of all girls. It was such a supportive community."
The second level of care is the Day Treatment, which is five days a week, has patients talk in groups and measures out two meals a day. The third and final level of care is Intensive Outpatient Care, which is three days a week for close to four hours each day.
"The Renfrew Center has been around now for about 32 years and they are considered one of the leading treatment facilities in the country. We do consider ourselves experts in the treatment of eating disorders," said Wentroble. "Renfrew is based on a real relational theory, which means that we want staff and patients to relate and connect to one another and be with each other.
The Renfrew Center has opened up their 19th location in Oakland, Pennsylvania. The treatment center treats anorexia, bulimia and other eating disorders that are coupled with other mental health issues like depression, anxiety and trauma. The center is feminist and only treats women.
"We also come from a feminist perspective, so Renfrew is a place where we only treat women … that is something we like and are very proud of," said Wentroble.  
Fuller developed an eating disorder at the age of six years old. She entered into Residential Treatment at the Philadelphia Renfrew Center and was one of the first patients for the Day Treatment program at the Pittsburgh Renfrew Center.
"I didn't want to give up my eating disorder at all. And sometimes I still miss it, which is why I think I'm in recovery. The struggle was opening up and actually talking about it to people. It was a huge coping skill. I was avoiding all the feelings I didn't want to feel. So, I would just use it to take a pause from reality," said Fuller. "It was like my own little world that I could go in to and I was safe and no one could hurt me. It was always there, it wasn't a relationship that left me, I could always rely on it."
Art is a big part of the therapy used at The Renfrew Center. Many of them use art to express emotions instead of writing or speaking about it.
"It's a different medium to access emotion nonverbally," said Wentroble. "Sometimes you don't know how you're feeling until it comes out on a piece of paper. And somebody who is trained to help you understand what came out, it really can be enlightening."
The art has led into The Renfrew Center creating the "This is Me" moment on social media. The goal is to allow women and girls to show the world their favorite moment.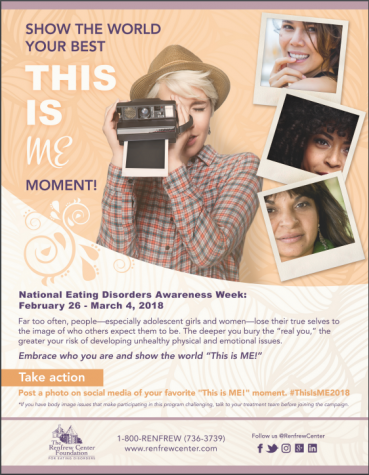 "We're seeing that a lot of little girls are kind of expressing body image dissatisfaction as young as age six, so it's time to maybe start to gear programs towards educating on body image and the importance of knowing and liking oneself," said Heather York, former professional relations representative.
The Renfrew Center has been getting involved in the Pittsburgh community by speaking on panels and leading discussions about the center and eating disorders. They are currently working with Carnegie Mellon, the University of Pittsburgh, Point Park University, La Roche College and more schools.   
"We're really pretty out there and advocating for making more awareness for this facility as well as this illness," said York.
Eating disorders are complex illnesses that The Renfrew Center has helped women overcome for years and wants women to know that they can seek treatment.
"If you're in the place where you're wondering whether or not you have an eating disorder, if it's interfering in your life in any way that you're honest with yourself about … you're worthy enough to seek treatment," said Wentroble.
York wants students to know that if students are struggling with eating disorders in school, accommodations can be made.
"There is a major concern for accommodations for classes and stuff … and I think that one very important thing to hold universities accountable for is the fact that there are accommodations for all sorts of medical and mental health. We really need to understand that and maybe push that towards our students," said York.
For more information on The Renfrew Center and National Eating Disorders Awareness Week, visit http://renfrewcenter.com/ or call 1-800-RENFREW.