New grant helps expand specialized nursing program
Two weeks ago, RMU announced the expansion of a specialized nursing program with the help and partnership of Heritage Valley Health System and a federal grant of $923,000.
The three year grant, worth close to $1 million, will enable RMU to expand its degree and certificate programs to prepare Psychiatric Mental Health Nurse Practitioners (PMHNPs) to provide mental health care to patients of all ages.  Advanced Nursing Education Training grants are offered every year and schools all over the county are competing for them.
"We were extremely fortunate to receive the funding," said Kirstyn Kameg, RMU Nursing professor and coordinator of the Psychiatric Mental Health Nurse Practitioners Program.  She explained how receiving the grant over larger schools and programs speaks volume.
"If we have this capacity and grant enables us to put a dent in the need of a child who has depression or mental illness, it will have an overall positive effect on those who have a mental illness."
"Suicide is the third leading cause of death of young adults aged 10-24.  There is a huge shortage of psychiatric providers, particularly those who can work with adolescents and children," said Kameg.  With the growing rate of mental health care in all ages, RMU decided it would be important to apply a new approach to the existing nursing program.
Fortunately a three-year grant from the federal Health Resources and Services Administration has been awarded to the school.  RMU is calling this approach, The Access to Interprofessional Mental Health Education (AIME) project.
The grant will enable the existing Doctor of Nursing Practice (DNP) program for psychiatric mental health nurse practitioners to expand and educate psychiatric mental health nurse practitioners in providing mental health care to patients, including those suffering from multiple chronic illnesses.
Funds from the grant will also be put forth to purchase distance-learning technology that will allow students living in rural areas to return to school, graduate and meet the mental health-care needs of individuals in underserved areas.
"If we have this program to educate students to become psychiatric mental health practitioners, why not go for it and why not try to get some funding to secure equipment so we can offer these course through the use of technology."
Kameg explained the grant and partnership will enable students and professionals from the Heritage Valley Health System to work in simulation based scenarios which will enable students to understand varies situations with patients with a mental health illness.
The School of Nursing and Health Sciences at RMU will also incorporate the core values of the university into the program.  Kameg stated, "Individuals matter both in terms of educating our students but certainly in terms of the patients who they will be caring for.  We feel this interactive dynamic is instrumental in preparing our students and helping to change their lives."
The School of Nursing and Health Sciences at RMU is one of only 72 nursing schools nationwide to offer a specialty in child/adolescent or family mental health. The goal of the grant is for RMU to expand enrollment in that program from 23 students at present to 72 by 2016.
And as RMU continues to move toward the future, it is continuing to changes lives and build a better future.
About the Writer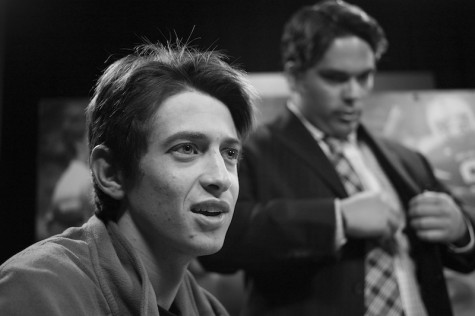 Mike Funyak, Staff Reporter
A Senior Business major with a concentration in Management at Robert Morris University, Mike is a Staff Writer and Blogger for "The Sentry."

In...