Obama reaches out to young voters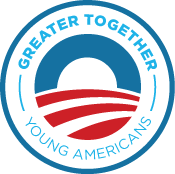 The reelection campaign of President Barack Obama has launched Greater Together, a new initiative geared at energizing young voters the same way his campaign did in 2008.
Obama's National Campaign Manager, Jim Messina, and Youth Vote Director, Valeisha Butterfield-Jones, announced the initiative on Oct. 31during a conference call with student reporters.
"Young people were key to our victory in 2008 and crushed the idea that young voters are apathetic," Messina said during the call.
Messina also pointed out that there are 8 million voters, ages 18 to 21, who will be able to vote in a presidential election for the first time next year. The campaign hopes to reach out to these new voters through student led events on campuses.
With these events starting now, Messina said he's seeing earlier involvement from students this year than he did in 2008.
One of the biggest parts of Greater Together is a new website geared at young voters, www.barackobama.com/young-americans. On the website, young voters can contact the campaign with questions, read blog postings, sign up to volunteer, and learn how to organize an event at their university.
There is also a video of the president speaking directly to young people, explaining why it's important to get involved.
"Our new website is designed to talk with and not to young people," said Butterfield-Jones. "Our goal is to reach young voters where they are: online."
The campaign also plans to reach out to young voters online through sites they frequently use, including Facebook and Twitter. Various online student summits, where students can ask questions to officials within the campaign, will also be held. The first of these summits was held on Nov. 2.
Another part of Greater Together will include the president going out and speaking on college campuses, which are said to be some of Obama's favorite events.
"You will see the president across the country campaigning on campuses," Messina said. "Greater Together recognizes the control of your generation and the influence they will have on Nov. 6, 2012."
Overall, Butterfield-Jones said those working with Greater Together have one common goal: "We're working to keep President Obama in office, protect the progress we've made so far, and keep pushing forward."
With the election just under a year away, the Obama campaign clearly recognizes the need for youth support in 2012.