Panhellenic Council strives for strong Greek community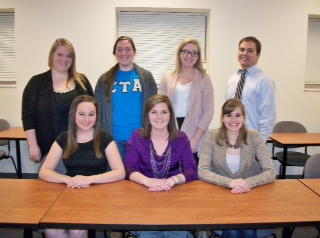 When CaraLee Russell first took over the position of President of Robert Morris University's Panhellenic Council in November, her main objective was to fortify the bond between the Greek community and those not associated with a sorority.
During Russell's time on the Panhellenic Council Executive Board, the governing body for the four sororities on campus, the group was presented with the National Panhellenic Conference's Achievement Award, which she hopes will change the perception of Greeks at RMU.
"Number wise, it will definitely get more people to see Greek Life differently. Our main priority right now is to bridge the gap between Greeks and non-Greeks on our campus because we're really not that different, we just wear letters," said Russell, a senior marketing major. "But we still strive for academics and scholarship and philanthropy and everything else, so I think everybody seeing this award and everything that comes with it will really help to bridge that gap."
In order for a Panhellenic Council to be eligible for recognition from the NPC, the premier advocacy organization for women and the sorority experience, they must meet at least five of the seven criteria bestowed for sororities.
Since Robert Morris isn't plagued with the problems that occur at larger schools, such as judicial procedures, it was unable to fulfill all seven principles, therefore barring it from receiving the Excellence Award.
"The two things we didn't get, we had a hard time getting documentation about that area because we just don't have some of those issues. One of them is called standard or judicial and it's when sororities or members of sororities do something bad," said Scott Irlbacher, Robert Morris' Director of Special Programs and Student Community Standard. "We don't have problems with that, we just don't have chapters doing bad stuff. It's the downside of being a really good, safe school and not having all those big, crazy issues like hazing, partying and dirty recruitment."
In order to create a united Panhellenic community, Russell has a put a plan in place that she hopes to follow during her final month in the executive position before elections for the next term are held.
"We're definitely trying to get everybody out to sporting events, really trying to do programming that involves non-Greeks," she said. "We have a few things that are in the works for planning that are going to mainly be focused on people outside of Greek life just helping us, showing them what we're all about."
Irlbacher, who first came to Moon Township over four years ago, believes that since RMU is the only school in Pennsylvania to be given an NPC accolade, it will inevitably aid in the recruitment process for sororities during Rush Week, which is being held September 25-28.
"I've had a few parents of girls who are interested in joining sororities and they are naturally concerned because if all they know about are bad or the stereotype of Greek life, they're going to be nervous, or anxious, or concerned," he said. "The award from the NPC is more of a reflection of all the stuff that the students are already doing. … If [parents] are willing to look at what I'm able to share with them, the numbers that show our students are not doing the things that they're worried about, I think that helps."