Phi Delta Theta and RMU's community "walk the walk" to defeat ALS®
Hang on for a minute...we're trying to find some more stories you might like.
On a cloudy Sunday morning, an enthusiastic and spirited group of people, gathered at Robert Morris University's (RMU) campus to join The Walk to Defeat ALS®.
On Sunday, March 25 brothers of the Phi Delta Theta fraternity, who sponsored The Walk to Defeat ALS® at RMU, greeted a group of wholehearted and committed walkers who walked to raise awareness of, and funds for, amyotrophic lateral sclerosis (ALS), also known as Lou Gehrig's disease.
"This is the second year that we're sponsoring the ALS Walk at Robert Morris University," said Garrett Zimmer, a junior at RMU and philanthropy chair of the Phi Delta Theta fraternity.  "This is the only walk we're currently sponsoring and we participate in the ALS Walk at the Pittsburgh Zoo," he added.
Nationally, The Walk to Defeat ALS® is developed by The ALS Association, a non-profit organization with headquarters in Washington, D.C.
According to Zimmer, through the efforts of the Phi Delta Theta chapters and the General Headquarters, thousands of dollars are raised for The ALS Association. The ALS Association is Phi Delta Theta's national philanthropy "in honor of Phi Delta Theta member and baseball great, Lou Gehrig," said Zimmer.
Dr. Stephen Stuban has participated in the Walk on the National Mall in Washington, DC, since 1997. Sandy, his wife and Army Nurse Corps Officer, was diagnosed with ALS 17 years ago; eight months after their only son, Nick, was born. She held the rank of Lieutenant Colonel and was in charge of patient education at the Tripler Medical Center in Hawaii before she sought a medical separation from the Army due to the progression of her ALS disease.
"Each year we invite our friends, our family and supporters to join us in participating in the walk to both raise funds intended to find treatments and cures for ALS," said Stuban, "and to aid individuals and families afflicted with this illness."
ALS is a degenerative disease of the motor neurons, muscle-controlling nerve cells in the brain and spinal cord that control voluntary muscle movement. According to the Muscular Dystrophy Association (MDA), symptoms include generalized weakness and muscle wasting, with many sufferers eventually losing their ability to walk or stand.
"Our circumstances would be significantly worse were if not for their assistance and support," said Stuban, referring to The ALS Association, the Paralyzed, Veterans Association, the Veterans Administration and the military's TRICARE. "[They] … are champions who have made a great difference in the healthcare needs of veterans afflicted with ALS."
"Stay strong, remain positive, keep hope alive," said Stuban. "What we do now will ultimately yield meaningful treatment and a cure," added Stuban referring to people afflicted by this disease and to those raising funds and doing research.
"The walk was officially created in 2000 to help people with Lou Gehrig's disease and their families live fuller lives," according to Cathryn Savino, the ALS Association project coordinator of The Walk to Defeat ALS®. "The Walk has raised $19,021,000 in 2010 and $20,300,000 in 2011, with more than 120,000 registered walkers every year."
About the Writer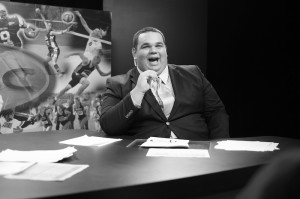 Dante Verme, Talent
A senior Communications with Applied Journalism major at Robert Morris University, Dante is an anchor for RMU's Colonial Sports Center. In addition to...