"Picasso at the Lapin Agile" in progress at RMU
Robert Morris University's Colonial Theatre is currently showing their first full performance of the school year this weekend at Massey Theater. The colonial actors are putting their own spin on the Steve Martin original play, titled Picasso at the Lapin Agile. The performance features the characters of Albert Einstein, played by Robert Kowalewski, and Pablo Picasso, played by Remy Weir, who meet at a Paris bar called the Lapin Agile. The scene is set for the early 1900s. Both men are on the verge of a monumental ideas, and find the bar to be a place to argue the value of talent and genius, while interacting with other substantial characters.
"For me, it is a really interesting role. I've never played something so big," said Weir.
Only a sophomore, Weir has been given his first main role in a collegiate performance. Although the colonial actor has taken many leads in high school productions, this role requires a higher skill level with less time to prepare. The eleven man cast had only three weeks of rehearsals before the opening night.
"A lot of people, to act, have to completely change their thinking, and who they are, but I feel that I can identify with my character," said Weir. Method acting has been a key advantage for the performer. By drawing on his own emotions and memories, he is readily able to jump into character and give a convincing portrayal of Picasso.
Other cast members of Picasso at the Lapin Agile include: Anthony Lombardo (Freddy), John C.R. Silbert (Gaston), Braelin Andrzejewski (Germaine), Macy McKnight (Suzanne), Nicholas Ruffing (Sagot), Tanner Sebastian (Charles Dabenow Schmendiman), Nina A. Danchenko (the Countess), Madison Avenue (Female Admirer), and Patrick Hanlon (the Visitor). The production is directed by associate professor of communications, Barbara Burgess-Lefebvre.
"This is a good opportunity. If you are not used to plays, this is a good introduction," said Weir.
The play's thought provoking plot and humor make it a perfect candidate for the the Robert Morris student body audience. The play ran Wednesday, Oct. 2 until this Sunday, Oct. 6. Shows from Wednesday through Saturday will begin at 7:30 p.m., while Sunday will feature a matinee at 2 p.m.
About the Contributor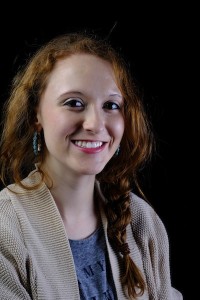 Kendall Valan, Assistant News Editor
A junior TV/Video Production major with a minor in journalism at Robert Morris University. Kendall is the assistant news editor for the student-run news...