Pittsburgh International Airport to receive updates and modernizations
PITTSBURGH — The Pittsburgh International Airport is expected to receive a makeover and modernization.
On Feb. 20, the Allegheny County Airport Authority revealed a new plan that they believe will match the changing needs of passengers and the travel industry.
The Terminal Modernization Program views the airport as the first and last impression for travelers and wants to provide them with an airport that matches that role.
Pittsburgh International Airport
The program will act as a bridge for landside travel and airside travel. This will be done through the construction of a new terminal which is to be constructed adjacent to current airside and in-between concourses C and D.
The new terminal has been in development over the past seven months and is pushing to become iconic to the Pittsburgh region and its' people.
The program is based on three major concepts; nature, technology and community. This has been simplified down to NaTeCo.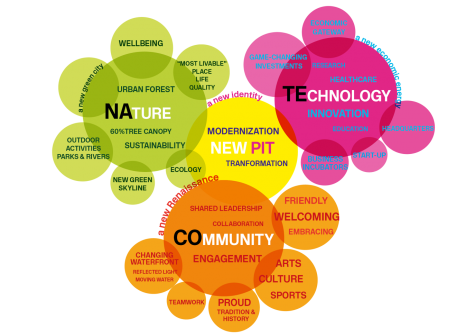 The project takes nature into consideration by taking inspiration from western Pennsylvania's environment, including rivers and hills and having these landscapes reflected in the structure and facade of the building.
In terms of technology, the project will push for a more modern and adaptable the facility that will improve user's experiences.
The last characteristic of the community will be enforced through a shared vision of an airport that "truly reflects the city of Pittsburgh." The construction of the new terminal and the updates will act as the strategy to achieve this goal.
The concept design which was developed by Luis Vidal + Architects and engineering firms HDR and Gensler. According to the Blue Sky Staff, the design, which is subject to change, includes:
Separate levels for departing and arriving passengers and a non-public level for building systems, such as baggage belts
Additional space for an expanded TSA checkpoint
Shorter walking distances for arriving and departing domestic and international passengers
Indoor and outdoor green plazas and gathering spaces
Additional space for concessions, artwork and other amenities
Planning for technological improvements and more automated systems
Emphasis on sustainability
The project is predicted to be completed in 2023.