Professor Bland's Roundtable explains stagefright
On Tuesday, the Robert Morris University Honors Program sponsored another roundtable hosted by RMU Professor Yvonne Bland.
The Roundtable, entitled "Managing Stage Fright: Taming the Green Monster," showed students how to help that overwhelming fear when giving a presentation or public speaking.
The presentation started off with Bland giving some opening remarks and her experience with the green monster. She then told students about the time she had to accept an award for the radio station that she previously worked for. She shared with students that there were 600 people at the ceremony and that she froze when accepting. The students then shared their own experiences with stage fright.
Included in the presentation was a clip from the TV show Seinfeld. In the clip, it was light-hearted and comedic by saying that the number one fear is public speaking and the second greatest fear is death. The show made fun at the fact death was number two and got the point across.
Bland then continued with the presentation, getting opinions from students of what makes them nervous. Answers included size of audience, who is watching, and the situation.
The presentation was very interactive by getting more opinions from the students and faculty in attendance. The question asked was to give the symptoms of nervousness that a person experiences when giving a speech.
"I found the presentation benefited me because it gave me the tools I need to help me succeed in my future speeches and interviews," said freshman Savannah Buhite.
When discussing the symptoms, Bland pointed out that the feelings that a person had is just caused by adrenaline. Students then shared the experience of having the same feelings, but being applied in a fun way. There were various stories from the class ranging from acting to martial art performances.
The presentation then wrapped up with Bland giving her own personal tips to those in attendance on what she does to deal with being nervous.
"The first 90 seconds of every speech, either grabs you or doesn't," said Bland. "So, if the person goes in to it very nervous, they have to overcome that later in the speech. These tips will help you start out on a strong foot so, then you can get comfortable and can excel."
There was a full room of students and faculty in attendance for the presentation.
About the Writer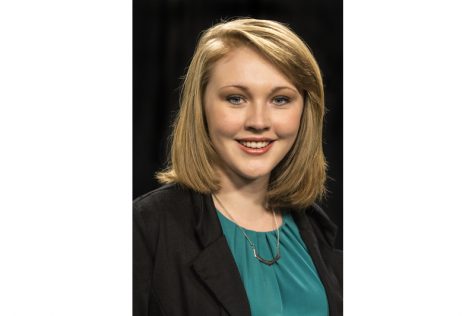 Hannah Smith, Social Media Manager
Hannah is a senior communication major with a concentration in journalism, who serves as the social media manager of RMU Sentry Media. She previously...