RMU celebrates festival of the lights
This past Thursday, Robert Morris University students were able to experience a different kind of holiday celebration on campus.
Diwali is a religious Hindi celebration of light overcoming darkness, where candles are lit, firecrackers are set off, and gifts are exchanged. As a tradition, mothers hand down their jewelry to their daughters if the year has brought prosperity and wealth to the family. There are many gifts exchanged among family members and children receive new clothes at this time of year.
"I'd say it's very similar to Christmas actually, like there's not much different besides what their actually celebrating is not so geared towards one thing or one specific belief, but just celebrating together," said sophomore Sonya Selvaraj.
Celebrating with new clothes is a big part of Diwali because it shows that someone is growing and were here another year.
A large number of children in India who live in poverty do not live past the age of five, said Selvaraj, which makes this one of the most important celebrations.
There is usually a mini-alter built in the home where a family prays to the god or goddess of their choosing. Goddess Lakshmi of wealth and prosperity is one of the most celebrated during Diwali because it shows that a family has prospered and there are hopes for the upcoming year for the same fortune.
Robert Morris students were able to see and learn about the traditional dress in the Indian culture. Selvaraj said to students that women dress so that it does not show off their figure and also touched on how styles have changed over time.
Attendees were also able to experience traditional Indian food while being able to have henna done on their hands and arms if they chose. The night ended with throwing red and blue color on each other to outside of Nicholson to show as part of the celebration.
This was the first year that Diwali was held for students to attend and is something that Director of Multicultural Diversity, Victoria Snyder, was glad to of helped make happen.
"I really wanted to do something that was out of the norm, that a lot of our students have not had experience with before, so I thought Diwali would be great opportunity," said Snyder. "So I was able to team up with Sonya and a couple other students along with Carpe Mundum, which is an organization on campus to facilitate this really amazing night."
About the Writer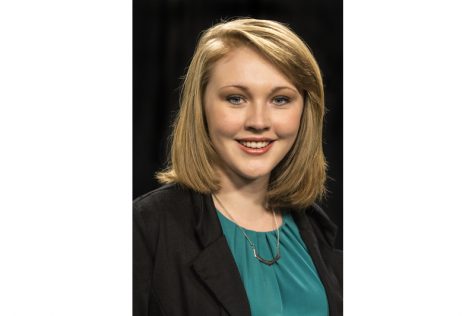 Hannah Smith, Social Media Manager
Hannah is a senior communication major with a concentration in journalism, who serves as the social media manager of RMU Sentry Media. She previously...