RMU College Republicans, Army ROTC sponsor 9/11 remembrance events
This past Sunday marked the 10th anniversary of 9/11, a day etched into the memory of almost every American.
In honor of the thousands of innocent Americans killed in the terrorist attacks, Robert Morris University's Chapter of College Republicans and the Army ROTC sponsored the 9/11: Never Forget Project and a 9/11 Remembrance Program on campus to honor those who lost their lives.
Started in 2003 by the Young American's Foundation, the 9/11: Never Forget Project was created in order to properly remember the anniversary because the foundation learned that many college campuses were doing nothing, according to the Young American's Foundation's website.
Beth Miller, advisor for the RMU College Republicans, confirmed that the RMU College Republicans brought the project, a nationwide event with some 200 participating schools, colleges and universities, to RMU in 2007.
Miller explained that the project involved a flag display in which each flag represented a person that lost his or her life on 9/11.
Members of the Army ROTC and RMU College Republicans set up the grid Tuesday, Sept. 6 from 3 to 6 p.m. and finished placing the flags the following day from 4 to 7 p.m.
"I'm so happy with [the Army ROTC's] involvement. They're great leaders. They're great problem solvers when we're out there trying to get the grid initially started. They always have been a help, and again, this year was no exception," declared Miller. "In terms of the College Republicans, I'm just very proud of them this year. All four officers as well as some of the members were out there both days."
A total of 2,977 flags were placed on the Nicholson Front Lawn. The 443 larger flags represented the number of police officers, paramedics and firefighters as well as the passengers and crew of Flight 93.
Bill Jones, president of the RMU College Republicans and member of the Army ROTC, added that the 10 12-by-18 inches flags, which observe the 10th anniversary, and four 2-by-3 feet flags, which Jones built himself and serve as a memorial to the Twin Towers, Pentagon and Shanksville, PA crash sites, were new to the display this year.
"We put nine, representing the nine years previous, and then we stuck one out front, representing the 10th year, trying to force on people it's been a decade already," Jones stated in regards to the 10 12-by-18 flags. "Look at where we were; look at where we've gone to at this point."
On Friday, Sept. 9, in the Ann and Alvin Rogal Chapel, a 9/11 Remembrance Program took place from noon to 1 p.m. As stated in a mass email sent out to students, faculty and staff, the program's focus was "to remember the lives lost as well as the heroism displayed and the American spirit that triumphed."
The event was lead by members of the Army ROTC, who performed a flag folding ceremony at the program, with the welcome given by RMU President Gregory Dell'Omo. Other speakers included Ellen Lichius, vice president of RMU College Republicans, someone from the campus ministry, as well as the RMU concert choir, which performed two songs.
"With the ceremony, it does help us relive what happened, but it also helps us look forward," Lichius declared, "and we do learn about what actually happened. We learn how symbolic the folding of the flag is, so I think it's definitely beneficial for students to learn about our history, but then also to empower them to help out, or at least, pass on the word, too."
Miller believes that that the significance of 9/11 should be held in high regard and remembered each year.
"As evil as the act was, there was a lot of good that people came out with; the donation of money and time and giving, just all of that afterwards. I think the way the country reacted was very good and very unified, and that's something I think we should remember, too," Miller stated. "The threat of why 9/11 happened is still there, and we still have military defending us, so we need to remember that."
Jones agreed that 9/11 is a date in United States history that must not go unnoticed; the sheer number of lives lost is something unfathomable for him.
"You look at the flags, and if you think about what each one means, I mean there's 2,977 flags out there, each one representing a lost life," reflected Jones. "For some people, like myself, it strikes home. It almost brings a tear to your eye when you just kind of sit there and look at it."
About the Writer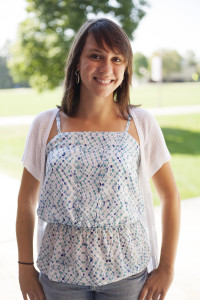 Andrea Zanaglio, Staff Writer
A senior journalism major at Robert Morris University, Andrea serves as a staff member this semester, writing and producing packages for all aspects of...