RMU housing crunch: More students, not enough rooms
In 2010, Robert Morris University saw 896 freshmen from the Class of 2014 come to campus for their first semester at college. Of these 896 students, 721 of them lived on campus, according to John Michalenko, dean of students and chief student officer.
Now, in 2011, Michalenko stated that RMU has decreased the amount of freshmen for the Class of 2015 to 785 with 648 students living on campus.
With these large numbers in both class sizes and housing requests, it has left many students, especially the upperclassmen, wondering why there is not enough housing on campus for the students.
"In all of RMU's history, the school has never seen this many students, both upperclassmen and freshman, wanting to live on campus. For this academic school year of 2011-2012, 64 percent of our upperclassmen wanted to live on campus; 14 percent more than last year," explained Michalenko. "On the same note, we had 84 percent of our freshmen for this school year wanting to stay on campus. We just can't build enough dorms fast enough to accommodate everyone. We find that more and more students are wanting to live on campus to get the full college experience."
Determining the cause of this problem is simple enough. However, finding a solution is a little trickier.
With the building of Salem Hall, the new School of Business and the renovation of the new home to the School of Communications and Information Systems planned, Michalenko explained that RMU has not left much money to build more residence halls.
Only a week into the first semester, numerous meetings have already taken place to start planning for next year with housing being the main topic at these meetings.
"We are trying our best to try to accommodate all of the students, but it is tough to correlate the housing and budget fees," Michalenko stated. "In my personal opinion, I believe that we need to shift our focus from building more apartment styled buildings for the upperclassmen to building more living-community styled buildings for our freshmen and sophomores. I have this dream to build this residential styled building just for the sophomores. It would be like a completely revamped, modern residence hall with suites like the ones in Washington."
From his research, Michalenko found that universities, such as Wagner University, John Carroll University, and Bucknell University, with this type of housing have all seen remarkably positive results.
Now, what about the students at the Holiday Inn?
"We still plan to hold our contract with the Holiday Inn until we find a more permanent solution to get all of the residents of Robert Morris on campus. It just makes the campus seem more vibrant when you have a lot of students living on campus," stated Michalenko.
Thus far, most students currently living at the Holiday Inn do not have much to complain about.
Andrew Cullen, sophomore, stated that he is really enjoying the pool and hot tub.
Matt Mclaughlin, sophomore, added, "It's nice. I really like it. The beds are very comfortable, but I hate getting the shuttle and having to wake up early and plan when to take the shuttle to get to classes."
Nick Currey, also a sophomore, agrees with both Cullen and Mclaughlin.
"I don't like having to catch the shuttle before 1 a.m. if I am working in the TV studio late at night. I'm screwed if I miss it. I have to walk up that hill and walk another mile to get back to the dorm," stated Currey.
"I am fat and lazy and don't want to walk that far!" Currey added, laughing.
Until the housing crunch is solved, it appears each year students will be living at the Holiday Inn until Michalenko's dream of a themed-style building comes true or another solution is proposed.
About the Writer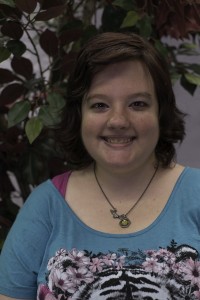 Alyssa Bishop, Staff Member
Alyssa is majoring in Graphic Design and minoring in English. She is the Advertising Manager for "The Sentry." She is also a contributing writer for Lifestyles...