RMU celebrates new John Jay renovations with groundbreaking ceremony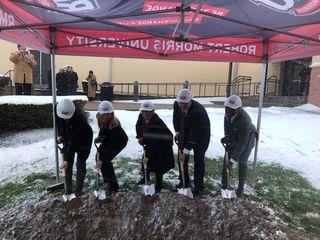 MOON TOWNSHIP – Robert Morris University broke ground for a newly renovated building in the School of Engineering, Math and Science (SEMS).
On Nov. 12, faculty, staff and alumni were invited to celebrate the groundbreaking ceremony for the expansion of the John Jay Center, a $5 million project funded by the Richard King Mellon Foundation.
The event was held in the John Jay Center and featured President Howard who was joined by Dean Maria Kalevitch, Provost Mary Ann Rafoth. The trio was also joined by the SEMS Board of Trustees to introduce the new building and make special announcements. According to Dr. Howard, the labs will be completed by fall of 2020 for students to use.
"It's just a great time for the university," said President Howard, "and it's the beginning, not the end."
According to Maria Kalevitch, dean of SEMS, the department raised more than $6 million for the building project and workforce development. This year, the undergraduate engineering program ranks 110 in the nation, going up seven spots from last year and the environmental science program also placed among the top 50 best programs nationally.
"Today is the combination of our hard work, dedication,and perseverance because everything we are doing is to benefit our students and faculty," said Dean Kalevitch. "They are the ones who will take us to even greater heights."
Additionally, SEMS secured four endowed scholarships.
"SEMS has recently secured four endowed scholarships and I would like to thank our board of visitors," said Dean Kalevitch. "It is important for us to train and mentor creators, and higher education serves everyone, no matter what stage of life they are."
The new center aims to serve all students on campus outside of the SEMS department as well. Students from different majors can use the new facilities for core classes in the next year. Provost Mary Ann Rafoth shares her thoughts on the effect the new facilities will have throughout campus.
"These new facilities will play an important part for our students and professors across the university who will use collaborative problem-solving invention and innovation space that will be created in the new annex," said Dr. Rafoth. This space will truly propel RMU to the next level with innovation, entrepreneurship and teamwork."