RMU makes its appearance at historical Women's March
The Women's March will be known as one of the biggest peaceful protests in history, and Robert Morris University professors and students made their appearance at the historical event.
RMU professor, Lauren Rauscher, drove down to the District of Columbia to participate in the Women's March the day after President Trump's inauguration.
"Some people were there in opposition of Trump. Some were not necessarily against Trump but against his policies. It was a march for justice, equity, access and against the particular policies by the Trump administration," Rauscher said. "I mean, it wasn't by chance that the march was one day after his inauguration."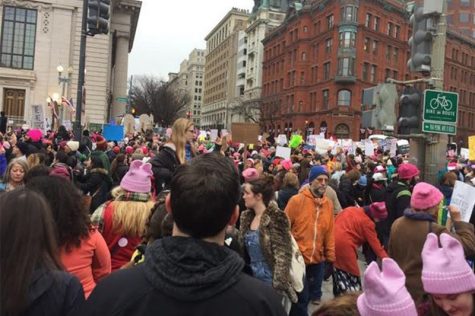 Rauscher experienced this monumental day up-close and personal in the heart of America. The march, however, was followed by controversy from Trump and his administration.
"I think we get to see how the march plays out," said Rauscher. "It spoke volumes. It was one of the biggest peaceful protests in history and that was very energizing. Seeing the pictures from all over the world was amazing and to say I was a part of that was inspiring. And the commitment that everybody made was such a representation of generation, gender—it wasn't just women."
Getting there was half the hype. Rauscher emphasized how the energy was building even when she was driving to the march.
"Even on the drive leaving from Pittsburgh, the turnpike was filled with people going to the march. You knew who was coming to march with you because the signs were hanging in the windows and people wrote with markers on their car," Rauscher said. "There was a lot of energy building up to it."
However, all the energy was not positive. With Trump's inauguration the day before the march, people who were against the protest were still in the District of Columbia.
Rauscher recalled the time she was checking into her hotel and the woman that was checking her in asked her if she was participating in the march. The women was relieved when Rauscher told her she was marching.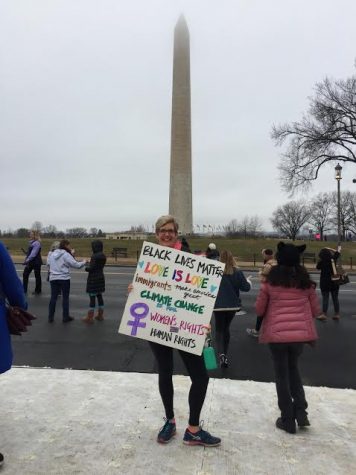 The hotel worker told Rauscher of the previous day when three men showed up to the hotel in white supremacist shirts.
"It made us cautious," Rauscher said, "We had to realize that maybe all the energy around us wasn't uplifting and positive and unifying. It was an eye-opener. It made us realize we had to be careful."
Rauscher described the march as unifying and uplifting. However, she understands that the march wasn't like that for everybody.
"I know the unifying feeling wasn't the case for everybody. I know for me, being a white women who is a cis-gendered feminist that my view on the march might be different from others not like me," said Rauscher.
Because there were differing views and people who participated, those who marched did so for different reasons. Rauscher said, "I marched for not creating a Muslim registry. For not building a wall. I marched to keep marriage equality. I marched for things that aren't gendered, like how climate change is real. There is science. Looking at science and reason and logic are important.'
And now, with Trump's ban from so-called "terrorist nations," RMU is responding with positivity. President Chris Howard recently sent out an email to all students, informing them that diversity and global perspective are welcome on our campus.
Rauscher hopes we can continue being positive in times where the nation seems divided. She said, "I know a lot of people are energized and I hope that translates into actions."