RMU sends well wishes to help Kush Krush Cancer
The college hockey season may be over, but a cause that has garnered attention all season on the Robert Morris University campus is still alive and well. Over 100 RMU students stopped by Romo's Café on Monday evening to show their support for former Colonial Hockey captain Chris Kushneriuk and his battle with testicular cancer.
Student Media Advisor, Carrie Moniot, along with her Media Management class, set up a photo booth on campus, allowing students to write encouraging messages on white boards and snap a photo that will be sent to Kushneriuk. The event was part of the class' final project, incorporating the 'RMU Hockey Krushes Cancer' cause to bring awareness to the efforts.
Kushneriuk, a three-year member of RMU Hockey, and captain his senior year, was diagnosed with testicular cancer in the summer of 2012. Kushneriuk's college team, along with his former professional squads, the Wheeling Nailers and Bakersfield Condors of the East Coast Hockey League, has helped to raise over 20,000 dollars towards his cause.
Kushneriuk has received treatment at home in Ottawa, as well as Indianapolis. Because he is Canadian, Kushneriuk's insurance will not cover his medical bills incurred in the United States.
The RMU men's hockey team sold t-shirts and bracelets throughout the season in an effort to raise funds. The team dedicated each of their wins this past season to Kushneriuk.
For more information or to donate to Kushneriuk's cause, please visit chriskushneriuk.org.
About the Writer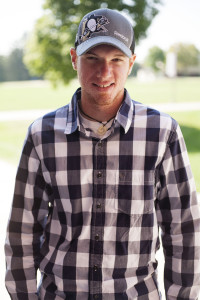 Brooks Bratten, Staff Writer
Brooks is a senior communication major with a concentration in sports journalism. He is currently the lead anchor on RMU-TV's Colonial SportsCenter (CSC),...